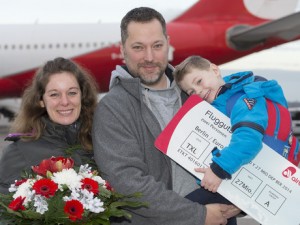 James Halter (40) is the 27 millionth passenger at Berlin's Airports. Together with his partner, Ina Hoffmann (42) and son, Dean (4), the IT manager checked in for airberlin flight AB7420 at 10.00 am to Chicago. "This year, we're taking our son to spend Christmas with my sister in the USA for the first time. Dean is really excited about the flight. He has never flown across the Atlantic before", said Halter. To mark the special milestone, the family have been given a voucher for airberlin's inner-European network.
Dr. Till Bunse, Vice President of Marketing and Sales at Flughafen Berlin Brandenburg GmbH: "This marks a new record in the number of people using our Berlin airports. We greatly welcome the 27 million passengers and the continued growth in passenger numbers, but at the same time we also realise that it sets us a challenge we must rise to meet. However, we are confident that the airport operating company is well positioned to handle this growth. With passenger figures up by over six per cent, we have for the twelfth time in succession grown faster than the overall market, and have strengthened our position as Germany's third-largest airport site."
Götz Ahmelmann, Chief Commercial Officer airberlin: "Our warm congratulations to the airport operating company on achieving this new record. The first airberlin flight took off 35 years ago from Berlin-Tegel to Palma de Mallorca. In the last twelve months, airberlin has connected the German capital with the Balearic island with a total of 2,500 flights. We have also expanded our home airport to become airberlin's largest international hub. As well as our loyal passengers from the Berlin region, we also serve many transfer passengers from Scandinavia and Eastern Europe."
In 2014, airberlin continued to expand the carrier's long-haul services from Berlin. As well as increasing the frequency of the service from Berlin-Tegel to Chicago in the Summer Flight Schedule, airberlin has also started flying to Abu Dhabi twice daily with the start of the Winter Flight Schedule 2014/15.
16.12.2014