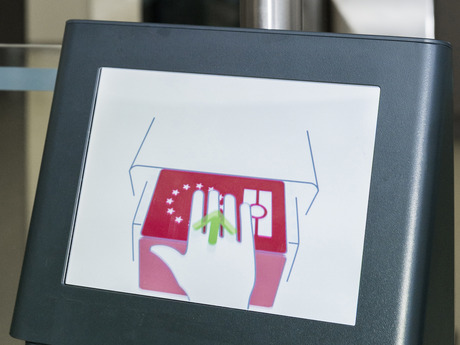 The German Federal Police began operating four "eGates" this morning in Terminal C at Berlin Tegel Airport. Travellers entering Germany therefore now have the option to use the EasyPASS automatic border control system to pass border controls more simply and quickly. Use of the eGates is voluntary and free of charge.
The growing passenger volume presents an increasing challenge to the Federal Police and airport company. EasyPASS improves the border control process and eases the burden on the Federal Police officers on duty. For passengers, the electronic control system reduces waiting times.
Hartmut Mehdorn, CEO of Flughafen Berlin Brandenburg GmbH: "The technology used by the Federal Police at Tegel is an important step towards speeding up the flow of passengers. Only with modern technology like this will it be possible in future to respond to the ever increasing passenger numbers."
Citizens of the European Union, European Economic Area and Switzerland who wish to use EasyPASS require an electronic passport. German citizens can furthermore use the new German identity card. Use of EasyPASS in any case requires that the passenger be of full age.
After the document has been scanned at the entrance to the gate and its authenticity checked, the system then compares the live image of the person taken within the gateway with the photograph that is stored on the chip. If the person's identity is confirmed and if there is no information on record of relevance to the police, the gate opens. The border controls have thus been implemented, and the passenger can enter the country. No personal data is stored in the process.
Thomas Striethörster, President of the Federal Police Directorate Berlin: "Travellers who cannot or do not want to use EasyPASS will benefit from shorter waiting times too. The time required for controls will be reduced considerably. Use of EasyPASS at Hamburg and Frankfurt/Main airports has shown this to be the case."
With EasyPASS, the Federal Police has one of the most modern and secure border control systems in Europe at its disposal. The Federal Police now operates around 90 EasyPASS lanes at Germany's busiest airports. By mid-2015, there will be 140 eGates at six airports.
02.03.2015