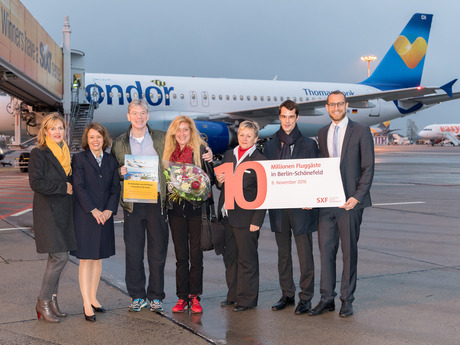 Nancy Kauffmann (42) is the 10 millionth passenger through Berlin-Schönefeld this year. The travel agent checked in for Condor flight DE 184 to Agadir, Morocco, together with her partner. "For us going to Agadir is like both holiday and honeymoon. I'm particularly looking forward to the planned excursion to Marrakech", says the 42 year old. To celebrate, Mrs. Kauffmann received a coupon for a flight for two people from Condor.
Dr Karsten Mühlenfeld, CEO of Berlin Brandenburg GmbH:
We are delighted to announce this passenger record almost two months before the end of the year. Ten million passengers passing through Berlin-Schönefeld Airport is a great success. Around 8.5 million passengers used Schönefeld Airport last year. Now we have reached the double-digit millions for the first time. This shows that Berlin-Schönefeld is in the same league as airports such as Cologne/Bonn and Stuttgart.
Paul Schwaiger, Commercial Director Continental Europe for Thomas Cook Group Airlines:
Each year over seven million customers fly with Condor to around 75 destinations in Europe, Asia, Africa and America. We are very happy to have Schönefeld Airport as our partner. From here we fly to great holiday destinations such as the Canary Islands, Greece and Turkey. And now, since the start of this winter, Agadir in Morocco. We are delighted that the airport's ten millionth passenger was booked into our maiden flight to Agadir today. In addition, we have been represented at Schönefeld Airport since 1998 through Condor Technik. This makes the airport an important partner for almost 20 years now.
Fly with Condor to the white city by the sea
This winter, Condor will be busy flying sun worshippers and beach lovers from Berlin-Schönefeld to sunny Agadir in Morocco. The "white city by the sea" can be reached from Schönefeld once a week, every Tuesday, with Condor. In total, this winter sees Condor flying to seven destinations from Berlin-Schönefeld, including Gran Canaria, Fuerteventura and Tenerife.
The port city on the Atlantic is a popular winter destination. Mild climate, over 300 days of sunshine a year and a ten kilometre long sandy beach make the city in southern Morocco a sure bet for happy beach holidays. The city is modern with charming areas. Shops and workshops invite visitors to look around and explore. The ruins of the Kasbah (the former fort) offer visitors breathtaking panoramas of the harbour, the bay and parts of the city. Agadir is a great starting point for excursions, e.g. to Essaouira, Marrakesh, the Sahara Dessert or the Berber villages of the Atlas Mountains.
Expansion of Berlin-Schönefeld Airport
More capacity is being created at Berlin-Schönefeld in order to keep up with growth. The landside of Terminal B has been expanded by 600 m2 and the baggage hall has been enlarged. This has improved the situation at the security gates and at check-in. Terminal D2, an entirely new arrivals terminal, is being constructed to the west of Terminal D. The structure of Terminal D2 was finished at the start of September 2016. At present, the three baggage carousels are being installed. The terminal is to open its doors this year. Landside road access for private vehicles, as well as busses and taxis, is also being improved. For instance taxi ranks and parking for intercity coaches are being modified, and existing car parks renovated, to meet increasing passenger numbers. In addition, Terminals A and D will also be rebuilt in 2017. Terminal D will become a dedicated departures terminal, the first floor of Terminal A will be converted into an airside waiting area. At the same time, the catering and shopping options in both terminals will be improved. Overall the quality of passenger experience is being raised, whilst the number of seats is increased significantly.