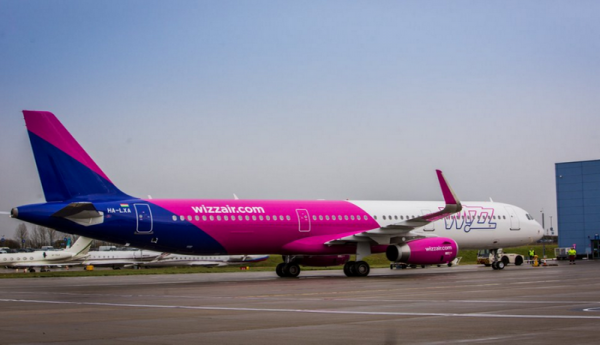 Wizz Air, the largest low-cost airline in Central and Eastern Europe and Bulgaria's leading carrier, today celebrates the major milestone of opening its 28 base in Varna, Bulgaria. The airline has based one of its new Airbus A320 aircraft at Varna Airport, starting six additional low-fare routes from its second Bulgarian base to Dortmund and Munich Memmingen in Germany, Eindhoven in The Netherlands, Larnaca in Cyprus, Milan Bergamo in Italy and Tel Aviv in Israel. With the long-time popular London Luton and recently launched domestic Sofia services, Wizz Air now connects Varna with eight destinations in seven countries with fares starting from as low as BGN 29.99*.
The base establishment represents an investment of $99 million** by WIZZ in Varna, creating 36 direct jobs with the airline. The base operations and the expanded network will contribute to the local economy, supporting jobs in aviation, transportation, hospitality and tourism industries. In 2017, Wizz Air has 333,000 seats on sale on its Varna routes, which represents a 218% growth year over year.
Wizz Air's first Bulgarian flight took off from Sofia in September 2005. Since then, the airline has become the market leader in the country and carried over 9.5 million passengers from and to its three Bulgarian airports: Sofia, Varna and Bourgas, while constantly expanding its low-fare route network.
Wizz Air has now eight aircraft based in Bulgaria, seven at Sofia and one at Varna Airport, employing 300 customer-oriented crew.  In the first six months of 2017, more than one million passengers traveled with WIZZ to and from Bulgaria, 39% more than in the same period of the previous year. With its extensive network, the airline's operations supports more than 1300*** indirect jobs in associated industries in 2017.
Underlining its commitment to Bulgaria, Wizz Air has recently announced significant expansion of capacity at Sofia Airport from March 2018 adding two new routes and a total of 22 additional weekly flights to its schedule.
Wizz Air now offers 44 routes from its three Bulgarian airports.
WIZZ AIR'S NEWEST ROUTES FROM VARNA:
| | | | |
| --- | --- | --- | --- |
| Destination | Days | Starts | Fares From* |
| Dortmund | Monday, Wednesday, Friday | 21 July | BGN 58.99 |
| Eindhoven | Thursday, Sunday | 23 July | BGN 39.99 |
| Larnaca | Thursday, Sunday | 23 July | BGN 29.99 |
| Milan Bergamo | Tuesday, Saturday | 22 July | BGN 39.99 |
| | | | |
| --- | --- | --- | --- |
| Munich Memmingen | Tuesday, Saturday | 22 July | BGN 43.99 |
| Tel-Aviv | Monday, Wednesday, Friday | 21 July | BGN 48.99 |
WIZZ AIR'S ALREADY OPERATING ROUTES FROM VARNA:
| | | |
| --- | --- | --- |
| Destination | Frequency | Fares From* |
| Sofia | 7 flights a week | BGN 34.99 |
| London Luton | 10 flights a week | BGN 39.99 |
Owain Jones, Chief Corporate Officer at Wizz Air, said:
As the leading airline of Bulgaria, we are delighted to celebrate the memorable milestone of opening the second WIZZ base in the country. Our new base operations at Varna Airport have created a number of local jobs with WIZZ and our business partners while bringing even more opportunities to Bulgaria with a greater choice of eight routes from Varna. With a record number of 333,000 seats on sale in 2017, we expect that our new services and low fares will attract more visitors to the Black Sea Coast, which will stimulate local tourism and hospitality industries. On the other hand, we are also confident that Varna customers will appreciate visiting the exciting WIZZ destinations at our affordable prices while enjoying our excellent onboard service. We stay committed to Varna and look forward to continuing our fruitful partnership with the airport.
Ulrich Heppe, CEO of Fraport Bulgaria said during his opening speech:
Today, the pinkest, the bluest and the brightest day is a very emotional one for us, as it marks the opening of the 28th Wizz Air base right here at Varna airport and the launch of a total of 8 year-round destinations. It also marks the successful end of a three-year long period of negotiations and meetings with our partners and friends from Wizz Air.
* One way including all taxes and non-optional charges
**http://www.airbus.com/content/dam/corporate-topics/publications/backgrounders/Airbus_commercial_aircraft_price_list_Jan17.pdf
**ACI suggests creation of 750 on-site jobs for every 1 million carried passengers per year
21. July, 2017