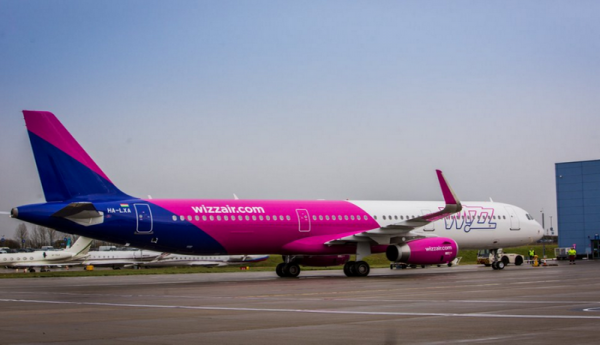 The Hungarian airline Wizz Air has just launched a new service from Berlin Schönefeld to Cluj-Napoca in Romania. The flight departs from Berlin Schönefeld every Wednesday and Sunday at 13:25 and flies direct to Dracula's home country. The return flight is on the same day at 12:00 and lands in Berlin at 12:55. The flight time is just under two hours. Wizz air is operating the service with a modern Airbus A320. Since March, the airline has been flying from Berlin to Skopje (Macedonia), and on 23 September it will be adding a service to Kutaisi (Georgia).
Gabor Vasarhelyi, Corporate Communications Manager at Wizz Air said: "We are thrilled to launch today another exciting route from Berlin Schönefeld Airport. We are sure German customers will appreciate visiting the charming Cluj-Napoca in the heart of Transylvania, which is a perfect destination to enjoy an active yet relaxing holiday. Our friendly crew looks forward to welcoming you on board a WIZZ flight with a smile!"
"The new service to Cluj-Napoca is a great addition to the Berlin flight schedule. We wish our partner Wizz Air very successful operations and we look forward to more inspiring routes from Schönefeld", said Dr. Karsten Mühlenfeld, Chief Executive officer of Flughafen Berlin Brandenburg GmbH.
Cluj-Napoca
Cluj-Napoca has roughly 320,000 inhabitants, making it the second-largest city in Romania after the capital, Bucharest. The city is the west of Transylvania lies on the Somesul Mic River (Little Somesh), and is one of the most important cultural, business and academic centres in the country. The almost entirely preserved historical city centre is studded with beautiful architecture. The botanical gardens, the city park (Parcul Central) and the central cemetery with its magnificent memorials and tombstones are tranquil places to escape the bustle of the city. Cluj-Napoca has launched a bid to become European Capital of Culture in 2021.
Transylvania
A trip to Transylvania is an absolute must for all Dracula fans. Count Vlad III Draculea who lived here in the 15th century is believed to have inspired the Irish author Bram Stoker to write his book Dracula.
Transylvania, which lies between Central and Southeast Europe, is also a popular destination for hikers and climbers. The densely wooded slopes of the Carpathian Mountains surround the region, and the mountains and their foothills give the region its unique character. Picturesque villages and towns, many of which have well preserved fortified churches and walls, and numerous romantic castles attract many tourists every year.