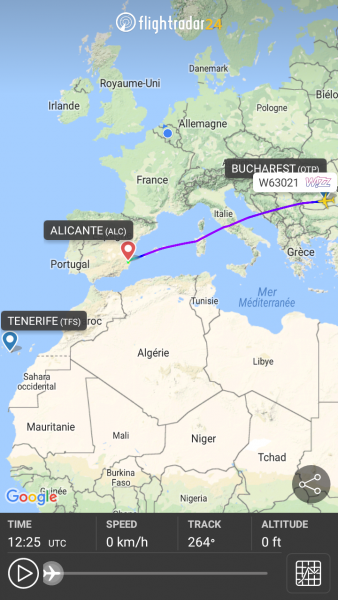 The captain of Wizzair flight W6/WZZ 3021 from Bucharest Otopeni to Tenerife Sur (Airbus A320 registered HA-LYE) decided to divert to Alicante after two Bulgarian passengers who were drunk and possibly under the influence of drugs caused trouble on board. They were also smoking electronic cigarettes despite the interdiction.
The Guardia Civil and the Border Police in Alicante arrested the two troublemakers and took them into custody, despite the fact that one of them tried to get back on board of the aeroplane.
The plane took off from Alicante at 18:00 and is again on its way to Tenerife, where it should land around 19:51 local time (instead of 18:25 as initially scheduled). The vacationers will not have lost too much time because of the incident.
Update 4/11/2017: the return flight to Bucharest was cancelled, probably because of duty time limitations.
This story was told to me by a friend who was on board.