6 BASED AIRCRAFT, TWO NEW ROUTES, 22 ADDITIONAL WEEKLY FLIGHTS, 26% ANNUAL GROWTH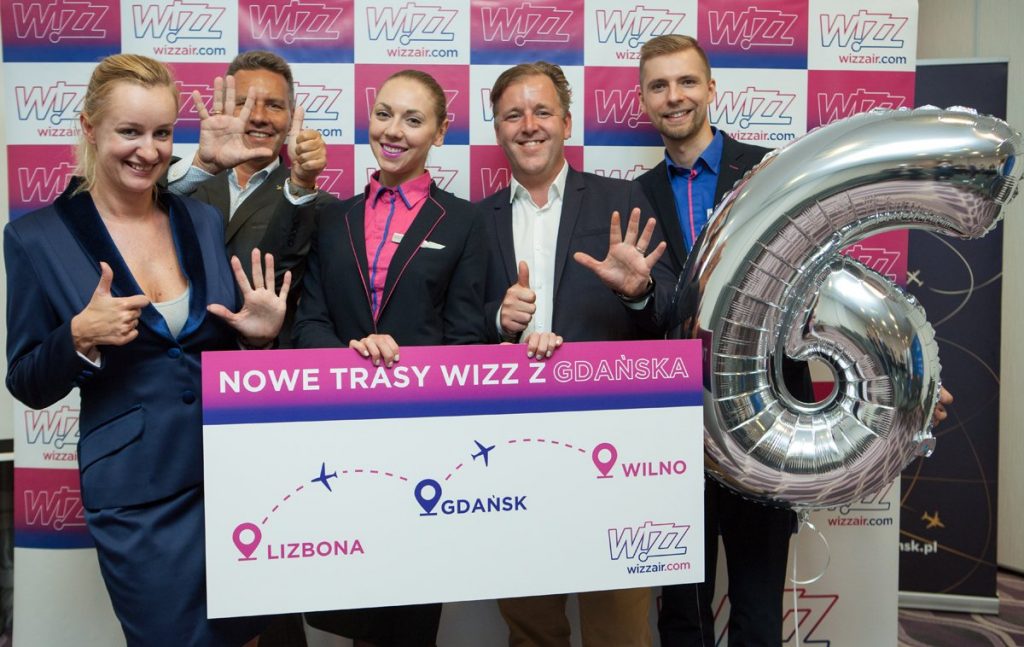 Wizz Air, the largest low-cost airline in Central and Eastern Europe, today announced that it will significantly expand its Gdansk operations from this December. Basing a 6 aircraft at Lech Walesa Airport, WIZZ will launch two new routes from Gdansk to the capitals of Lithuania and Portugal, Vilnius and Lisbon, as well as increase frequencies on nine popular services adding a total of 22 incremental flights to its schedule. In 2018, Wizz Air will offer 3.1 million seats on its Gdansk routes, a 26% growth year over year.
The new aircraft represents a further investment of $99 million* by the airline in Poland. Expanding its operations, Wizz Air creates 36 additional direct jobs and will have a team of over 200 dedicated crew based at Gdansk Airport.
Gdansk was one of the first cities Wizz Air brought its low fares to in 2004 and since then, the airline carried over 14 million passengers to and from Lech Walesa Airport.  In the first seven months of 2017, more than 1.2 million passengers travelled with WIZZ on the airline's Gdansk routes, 7% more than in the same period of the previous year. With its new Lisbon and Vilnius services, Wizz Air now connects Gdansk with 32 destinations across Europe.
Seats on Wizz Air's Gdansk flights, including the newly announced ones, are on sale and can be booked on wizzair.com or via the free WIZZ mobile app from as low as PLN 39**, which starting from 29 October will also include an increased free hand luggage allowance of 55x40x23 cm.
Wizz Air's commitment to Polish customers is underlined by the strong growth at its other seven Polish airports as well. WIZZ has 9 million seats on sale on its Polish routes in 2017, which represents 16% growth year over year. The airline's Polish operations do not only provide affordable access to WIZZ's lowest fares between Poland and the rest of Europe but also stimulate the local job market in aviation and tourism sectors, supporting more than 5000 jobs*** this year in associated industries throughout the country.
With the latest expansion of its Gdansk fleet, Wizz Air will have 23 based aircraft in Poland by the end of 2017, employing more than 850 customer-oriented crew, who deliver excellent service on each WIZZ flight.
Wizz Air now offers 153 routes from its eight Polish airports.
WIZZ AIR'S NEWEST GDANSK ROUTES:
| | | | |
| --- | --- | --- | --- |
| Destination | Days | Starts | Fares From** |
| Vilnius | Tuesday, Thursday, Saturday | 21 December | €9.99 / PLN 39 |
| Lisbon | Tuesday, Saturday | 23 December | €39.99 / PLN 169 |
WIZZ AIR'S FREQUENCY INCREASES ON EXISTING GDANSK ROUTES:
| | |
| --- | --- |
| Destination | Weekly Flights |
| Stockholm Skavsta | 14 from 12 |
| Oslo Torp | 11 from 7 |
| Bergen | 7 from 5 |
| Eindhoven | 7 from 5 |
| Malmo | 7 from 5 |
| Turku | 7 from 5 |
| Hamburg | 5 from 4 |
| Gothenburg | 4 from 3 |
| Reykjavik | 3 from 2 |
Johan Eidhagen, Chief Marketing Officer at Wizz Air, said:
We are excited to announce a massive expansion of our Gdansk operations. Growing our fleet to six aircraft at Lech Walesa Airport we create a number of local jobs with the airline and our business partners while bringing more opportunities to Pomerania. Adding two new destinations and a total of 22 additional weekly flights to our Gdansk network not only provides an extended offer of affordable travel options to our Polish customers but also allows an increased number of customers to visit Gdansk on our low fares, bringing further benefits to the local economy. We look forward to continuing our fruitful partnership with the airport and stay committed to our loyal Polish customers offering the lowest possible fares to them. Our dedicated crew will ensure an excellent travel experience for each passenger traveling with WIZZ on boardtravellingur six new Gdansk-based Airbus aircraft.
* http://www.airbus.com/newsroom/press-releases/en/2017/01/2017-price-adjustment-for-airbus-modern-fuel-efficient-aircraft.html
** One way including all taxes and non-optional charges
** ACI suggests creation of 750 on-site jobs for every 1 million carried passengers per year
10. August, 2017