Wizz Air, the largest airline in Romania and one of Europe's fastest-growing airlines following the recent announcement regarding the further development of its Bucharest base, heralded further expansion of its Romanian operations, basing 1 new aircraft in Iasi and adding six new services to its ever-growing Romanian network. The new Airbus A320 aircraft will join the fleet in August 2020 and so will commence the six new routes to Barcelona, Bari, Berlin Schönefeld, London Southend, Turin and Verona. Together with the arrival of the new aircraft, frequencies to Rome Ciampino, Bologna, Brussels Charleroi and Tel Aviv will increase. Tickets to these long-awaited destinations can already be purchased on wizzair.com and on the airline's mobile app for as low as RON 119*.
WIZZ is continuously expanding its Romanian network and creating more and more travel opportunities with Europe's greenest fleet**; WIZZ has already announced 13 new routes this year connecting Romania with the rest of Europe and beyond.
Wizz Air's commitment to Romanian customers is underlined by the strong growth at its other nine Romanian airports as well. With a network of over 140 services from Romania, WIZZ will have almost 11 million seats on sale on its Romanian routes in 2020, which represents a 10% growth year over year. WIZZ has just recently welcomed its 50 millionth passenger in Romania. The airline's local operations do not only provide affordable access at WIZZ's lowest fares between Romania and the rest of Europe, but also stimulate the local job market in aviation and tourism sectors, supporting more than 8,000 jobs*** in associated industries throughout the country.
Stephen Jones, Wizz Air Hungary's managing director said:  "I am delighted that just two weeks after announcing an expansion in Bucharest I could bring our distinguished Romanian passengers further good news. Our newest routes will connect Iasi with six wonderful European cities and the allocation of the third ultra-modern Airbus A320 aircraft will bring along frequency increases on four of our most popular services to Bologna, Brussels, Rome and Tel Aviv.  The WIZZ team looks forward to welcoming customers old and new on-board Europe's greenest fleet. And for those looking to turn their passion for travel into a career, we'd be delighted to see you at one of our Wizz Air cabin crew recruitment days, where you can find out more about joining the WIZZ team."
Maricel Popa- Iași County President said: "I am pleased to note that new air travel will link the North East region of the country with six much-needed destinations. Both residents of Iași and from entire region have repeatedly requested the introduction of flights to Verona, Turin or Barcelona. We have conducted negotiations with the air transport companies, and here we are now sure that Iași is a point of interest for the airlines. Wizz air is a company that already operates on our airport, knows the mobility of passengers and the potential of the airport and the fact that in addition to the new flights it will bring here new aircraft denotes safety and confidence in those needs."
Cătălin Bulgariu – Iasi Airport Manager said: "Today's event is a clear proof of the right and favourable partnership between Iași Airport and Wizz Air. Bringing the third Wizz Air aircraft to our base and operating six new destinations by this company, two of them operated from Iasi for the first time, such as Berlin and Bari, shows that the airport is in a continuous development and that is a stable and reliable partner. The development and consolidation of the position of Iasi Airport among airports in the country are also confirmed by the fact that at the end of September our airport was crossed by the passenger number 1 millionth, one month earlier than last year. Furthermore, Wizz Air also registered the passenger number 1 million on a flight operated from Iasi. Our priority is to meet the needs of passengers, meeting their expectations by increasing the number of destinations operated from Iasi Airport and their frequency."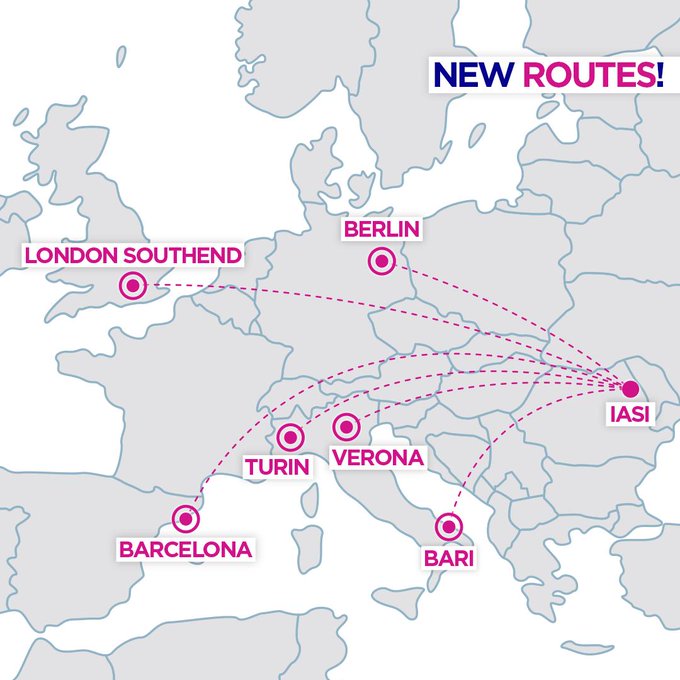 WIZZ AIR'S NEWEST ROUTES FROM IASI
| | | | |
| --- | --- | --- | --- |
| Destination | Days | Starts | Lowest fares** |
| Barcelona, Spain | Tuesday, Saturday | 1 August 2020 | 139 RON/29.99 EUR |
| Bari, Italy | Tuesday, Saturday | 1 August 2020 | 119 RON/24.99 EUR |
| Turin, Italy | Tuesday, Thursday, Saturday | 1 August 2020 | 119 RON/24.99 EUR |
| Berlin Schönefeld, Germany | Wednesday, Sunday | 2 August 2020 | 119 RON/24.99 EUR |
| London Southend, UK | Monday, Wednesday, Friday, Sunday | 2 August 2020 | 139 RON/29.99 EUR/26.99 GBP |
| Verona, Italy | Monday, Friday | 3 August 2020 | 119 RON/24.99 EUR |
WIZZ AIR'S FREQUENCY INCREASES ON IASI ROUTES
| | |
| --- | --- |
| Destination | Weekly flights |
| Rome Ciampino, Italy | 2x→5x |
| Bologna, Italy | 2x→3x |
| Brussels Charleroi, Belgium | 2x→3x |
| Tel-Aviv, Israel | 3x→4x |
*One-way price, including administration fee. One carry-on bag (max: 40 x 30 x 20 cm) is included. Trolley bag and each piece of checked-in baggage is subject to additional fees. The price applies only to bookings made on wizzair.com and the WIZZ mobile app. Number of seats at indicated prices are limited.
** Wizz Air's carbon-dioxide emissions were the lowest among European airlines in August 2019 (57.7 g/km/passenger)
*** ACI suggests creation of 750 on-site jobs for every 1 million carried passengers per year
Oct 3, 2019, 16:30