2 BASED AIRCRAFT AT IASI, SIX NEW ROUTES, MORE LOCAL JOBS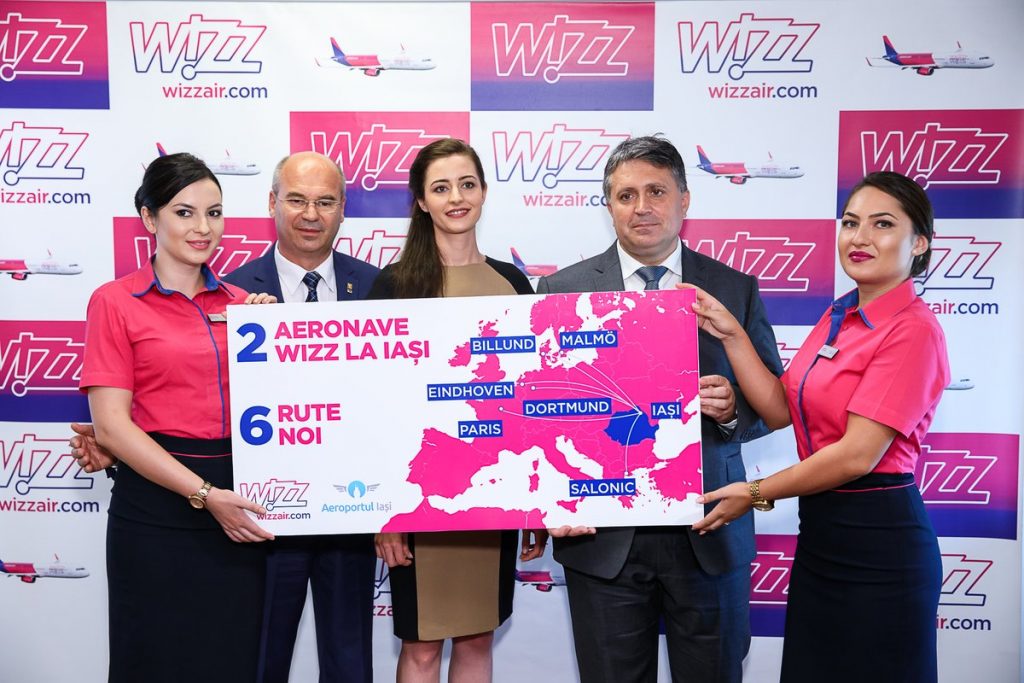 Wizz Air, the largest low-cost airline in Central and Eastern Europe and Romania's leading carrier, today announced that it will further expand its Iasi operations, adding a second Airbus A320 aircraft at its Iasi base in April 2018. At the same time, WIZZ will launch six long-awaited routes from Iasi to Eindhoven (Netherlands), Dortmund (Germany), Thessaloniki (Greece), Billund (Denmark), Malmo (Sweden) and Paris Beauvais (France). The new connections together with the weekly frequencies increase of the popular services to Milan Bergamo, Tel Aviv and Rome Ciampino are part of WIZZ's 2018 summer schedule from Iasi.
Wizz Air started its operations from Iasi International Airport in 2013 and since then has continuously invested in its ever-growing network, always looking to bring more low-fare travel opportunities for its customers. Today's announcement brings WIZZ's investment in its Iasi base to almost $200 million and in 2018, by increasing its operations with 70%, will offer in total more than 650,000 seats on 14 routes to 10 countries. The new aircraft will arrive on 29 April 2018 and will support the service of the six new routes from Iasi from which, WIZZ's routes to Sweden, Netherlands, Greece and Denmark are the only direct connections with these countries from Iasi. Frequencies on three of WIZZ's most popular services from Iasi will be increased with the arrival of the new aircraft to four weekly flights to Tel Aviv and Milan Bergamo, and to three weekly flights to Rome Ciampino. Expanding its operations in 2018 to two modern aircraft, Wizz Air will have a local staff of more 70 direct employees, new recruitment sessions being scheduled in September, October and November in Iasi.
Together with today's announcement, Wizz Air also releases its 2018 summer schedule for Iasi. For the next two weeks the fares for the summer season, including the new routes will be exclusively available to WIZZ Discount Club members only, while from 25 August 2017, they will become available to everyone. Passengers planning their holidays or a weekend getaway from Iasi can discover from summer 2018, 14 destinations across 10 countries in Europe and beyond, including the six new services to Eindhoven, Dortmund, Thessaloniki, Billund, Malmo and Paris with fares from as low as RON 85**. Since the beginning of 2017, over 193,000 passengers have already enjoyed WIZZ's low fares, easy booking system and excellent on-board service to and from Iasi, an increase of more than 130% compared to the same period of the previous year.
As the pioneer of lowest-fare air travel, WIZZ network is constantly expanding to bring affordable travel opportunities between Romania and the rest of Europe. Wizz Air's fast-growing Romanian operation will continue to stimulate the local economy as it has done for the last 10 years, bringing increased employment in Romania's aviation and tourism sectors and supporting more than 5,700 jobs this year in associated industries throughout the country. In 2018, WIZZ offers in total more than 9.2 million seats on sale from 10 Romanian airports on 142 routes to 20 countries. Already the largest airline in Romania, Wizz Air will have next year 24 aircraft based in Romania, including 7 of the ultra-efficient brand new 230-seat Airbus A321, employing over 800 customer-oriented local crew.
WIZZ AIR'S NEWEST ROUTES FROM IASI:
| | | | |
| --- | --- | --- | --- |
| Destination | Days | Starts | Fares from** |
| Eindhoven | Wednesday, Sunday | 29 April 2018 | RON 99 |
| Billund | Monday, Friday | 30 April 2018 | RON 99 |
| Paris Beauvais | Tuesday, Thursday, Saturday | 1 May 2018 | RON 99 |
| Dortmund | Tuesday, Thursday, Saturday | 1 May 2018 | RON 99 |
| Malmo | Tuesday, Thursday, Saturday | 1 May 2018 | RON 99 |
| Thessaloniki | Tuesday, Thursday, Saturday | 1 May 2018 | RON 99 |
WIZZ AIR'S FREQUENCY INCREASES ON EXISTING IASI ROUTES:
| | |
| --- | --- |
| Destination | Weekly Flights |
| Milan Bergamo | 4 from 3 |
| Tel Aviv | 4 from 2 |
| Rome Ciampino | 3 from 2 |

Speaking at a press conference in Iasi, Sorina Ratz, Communications Manager at Wizz Air said:
Today we are bringing more exciting news for all our customers from Moldova region, underlining once again Wizz Air's commitment to Romania. We are delighted that after one year since Iasi base opening, we continue our investment with the addition of a second Airbus A320 which will join our Iasi fleet in April 2018, creating more new local jobs at Wizz Air as well as supporting almost 550 jobs in aviation, tourism and other associated industries across the region. By increasing our seat capacity with 70% in 2018, WIZZ is offering now 14 routes from Iasi and bringing more and more amazing opportunities for our customers to travel at the lowest fares and experience Wizz Air's great onboard service. The whole WIZZ team looks forward to welcoming our passengers on board to any of the long-awaited routes to Eindhoven, Dortmund, Thessaloniki, Billund, Malmo and Paris.
*http://www.airbus.com/newsroom/press-releases/en/2017/01/2017-price-adjustment-for-airbus-modern-fuel-efficient-aircraft.html
** One way including all taxes and non-optional charges
*** ACI suggests creation of 750 on-site jobs for every 1 million carried passengers per year
11. August, 2017