7TH BASED AIRCRAFT AT CHOPIN AIRPORT AND 7 NEW WIZZ ROUTES
Wizz Air, the largest low-cost airline in Central and Eastern Europe announced today that it will base a seventh aircraft at its Warsaw base. From June 2017 the airline will start operating seven new services connecting Warsaw with four Central and Eastern European capitals, Bratislava, Bucharest, Kiev* and Vilnius and three popular leisure destinations, Lyon and Nice in France and Lamezia Terme in Italy.
Warsaw was one of the first airports Wizz Air brought its low fares to in 2004 and since then, over 13 million passengers flew with WIZZ to and from the Polish capital. In 2015, Wizz Air carried more than 1,5 million passengers on its low-fare Warsaw routes, supporting over 1000** local jobs. In May 2016, Wizz Air deployed a 6th aircraft at its Chopin Airport base adding several routes to its Warsaw network, which with today's announcement consists of 48 routes to 25 countries.
The new aircraft represents an investment of $98 million*** by WIZZ in Warsaw, further creating 36 additional direct jobs with the airline. Wizz Air's new employees will join 220 dedicated local crew, who deliver excellent onboard service on each WIZZ flight. In 2017, the airline will have over 2,6 million seats on sale, representing a 22% growth year over year.
With the addition of the new aircraft, Wizz Air's Warsaw fleet will contain four Airbus A320ceos and three Airbus A321ceos. With 230 seats on board, the Airbus A321ceo is the most efficient single-aisle passenger aircraft. Its superior operating economics mean that WIZZ offers more seats to more destinations at WIZZ's lowest fares at the same time as delivering the lowest emissions and noise footprint in its class.
In 2016 Wizz Air has expanded its Poland operations to a significant extent, adding its 8th Polish airport, Olsztyn-Mazury, 38 new routes and 16 exciting destinations to its low-fare network. With the latest expansion of its Warsaw fleet, by June 2017, Wizz Air will have 22 aircraft based in Poland offering 147 routes to 66 destinations from eight Polish airports.
Besides the constant development of its network, WIZZ always strives to enhance customer experience, which was recently underlined by the launch of its new, innovative website. The renewed and redesigned wizzair.com has a responsive layout easily adjustable to any size of display: a smartphone, a tablet or a desktop, and it is easier to use than any other current airline website. The revolutionary Express Booking function is a first-of-its-kind feature that allows customers to purchase a ticket in just three clicks within 30 seconds. A demonstration of the new website layout and features can be found at https://youtu.be/utQMi6u6ubg.
WIZZ AIR'S NEWEST ROUTES FROM WARSAW 
Destination

Days

Starting date

Fares from****

Bratislava

Monday, Wednesday, Friday, Sunday

30 June 2017

€19.99 / 89PLN

Bucharest

Monday, Wednesday, Friday, Sunday

30 June 2017

€29.99 / 129PLN

Kiev*

Tuesday, Thursday, Saturday

1 July 2017

€29.99 / 129PLN /

/ 689UAH

Lamezia Terme

Wednesday, Sunday

2 July 2017

€39.99 / 169PLN

Lyon

Monday, Friday

30 June 2017

€29.99 / 129PLN

Nice

Tuesday, Thursday, Saturday

1 July 2017

€49.99 / 219PLN

Vilnius

Monday, Wednesday, Friday, Sunday

18 September 2017

€19.99 / 89PLN
Speaking at a press conference in Warsaw today, József Váradi, Chief Executive Officer of Wizz Air, said:
Warsaw was one of the first cities we added to the WIZZ network in 2004 and over the past 12 years, we earned the trust and loyalty of our Polish customers. This year we based a 6th aircraft at our Chopin Airport launching plenty of exciting low-fare services, deployed two Airbus A321 aircraft on our most popular routes, celebrated the remarkable 13 million passengers milestone and today we deliver more great news for our Warsaw customers. Adding a seventh aircraft to our Warsaw fleet we create more local jobs and add four new countries accessible on Wizz Air's low fares from Warsaw's main airport to provide even more low-fare travel opportunities for both business and leisure travelers. We stay committed to our Polish customers and keep on expanding our ever-growing network to best meet their needs.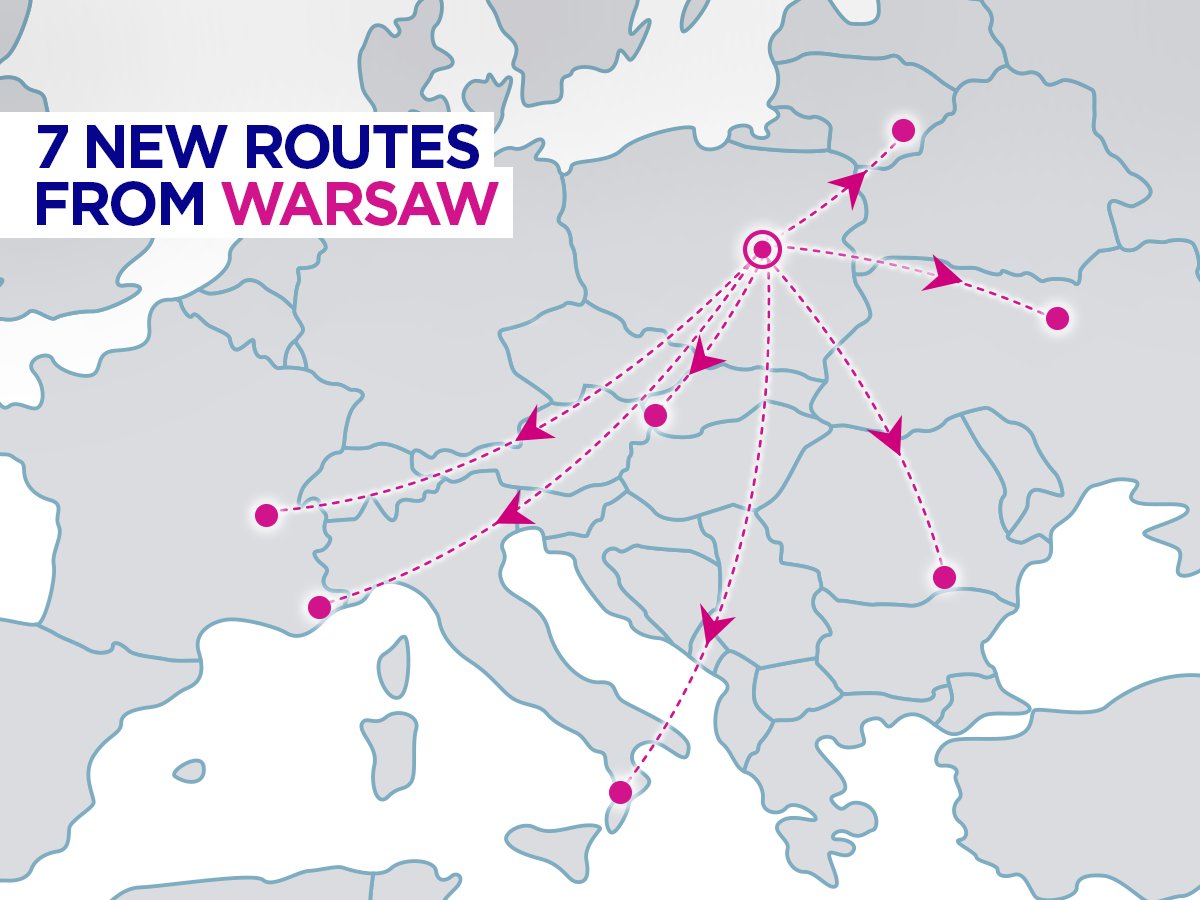 * subject to regulatory approval
** ACI suggests creation of 750 on-site jobs for every 1 million carried passengers per year
*** http://www.airbus.com/presscentre/pressreleases/press-release-detail/detail/new-airbus-aircraft-list-prices-for-2016/
****one-way, including taxes and non-optional charges
25/10/2016