SAS continues to open new direct routes from Scandinavian airports. In its 2015/2016 winter program, SAS is launching several all-new routes, continuing a number of its most attractive summer destinations and increasing the number of departures on popular routes.  SAS is also increasing the number of departures between Copenhagen and San Francisco with daily flights to San Francisco.
The SAS winter program will gradually come into force from late October. The new routes will give SAS passengers new holiday opportunities to fly to big cities and ski resorts. SAS customers can look forward to being able to take a direct flight from Oslo to Vilnius four times a week, from Bergen to Warsaw over Christmas and New Year and from Stockholm to Munich in the ski season.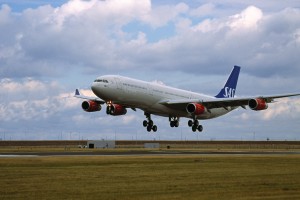 More seats to popular destinations
In addition to these new flights, several summer program routes will be continued over the winter. This includes Stockholm to Budapest, Malta and Faro and from Copenhagen to Barcelona. Over Christmas and New Year, SAS will offer the biggest ever number of seats from Scandinavia to Southern Europe.
"At SAS we are continuously looking to improve what we offer our customers. Last winter we saw a big interest in our holiday destinations. As such, we are delighted to be able to offer even more winter destinations next season and at the same time, increase the number of departures on popular routes," said Eivind Roald, Vice President Sales & Marketing at SAS.
In addition to the holiday routes, SAS is also increasing the number of departures on key routes for business travelers. Flights from Copenhagen and Stockholm to Manchester are being increased by a daily departure. SAS will be offering a better afternoon timetable from Oslo to Bergen and up to 18 daily departures.
More long-haul services
SAS will yet again increase the frequency of departures this winter and increase the number of flights from Copenhagen to San Francisco. Which means SAS will have daily flights to San Francisco.
"Thanks to big demand for SAS flights to the USA, we can now make our customers even happier by offering daily flights to San Francisco from Copenhagen this winter. With 106 weekly departures to and from five destinations in the USA and our all new cabins, that have been given a tremendous reception by passengers, SAS has the most powerful offering between Scandinavia and the USA," Roald explained.
Increased capacity to London
The SAS winter flights program also includes larger aircraft on its existing routes from Copenhagen, Stockholm and Oslo to London Heathrow. The Gothenburg-London route will also switch from Heathrow to Stansted Airport. In total, SAS is increasing capacity from Scandinavia to London by over 50,000 extra seats.
The new routes and greater frequencies mean that the SAS winter program will offer customers over half a million more seats during the coming winter season than last year.
SAS has opened a total of 13 new routes in 2015 and is also set to launch several more new routes.
Tickets for the winter flights program go on sale on Tuesday 2 June.
New routes from Norway
Oslo-Vilnius from 29 October (departures Monday, Thursday, Friday and Sunday)
Bergen-Warsaw from 18 December to 6 January (departing 18, 19 December, 3, 6 January)
New routes from Sweden
Stockholm-Munich from 5 February to 25 March, (departures Friday, Saturday and Sunday)
Increased frequencies
The number of departures is being increased from Stockholm to Manchester, Las Palmas, Barcelona, Thessaloniki, Prague and Nice. The summer routes from Stockholm to Budapest, Malta and Faro will become winter routes. In addition, the summer routes from Stockholm to Malaga, Palma de Mallorca and Alicante will now become year round routes.
The number of departures from Oslo to Bergen, Las Palmas, Nice, Malaga and Alicante will be increased.
From Copenhagen, the number of departures to, Manchester, Palma de Mallorca, Las Palmas, Rome, Nice, Salzburg, Prague, Budapest and Barcelona will be increased. The summer route from Copenhagen to Alicante will become a new winter route over Christmas and New Year. SAS is adding an extra departure on its Copenhagen to San Francisco route, which will now fly daily.