Winair will cancel all services on Tuesday and Wednesday and relocate its Twin Otter aircraft.
Caribbean operator Winair has informed the general public that it will have to cancel its services on Tuesday 5 September and Wednesday 6 September 2017. The decision is an immediate result of the imminent passing of Hurricane Irma in the area where the airline operates.
Furthermore, the airline has also decided to relocate its Twin Otter aircraft to a more secure and safe area in the Southern Caribbean.
The airline hopes to restart limited services Thursday 7 September 2017, depending on the post Irma conditions.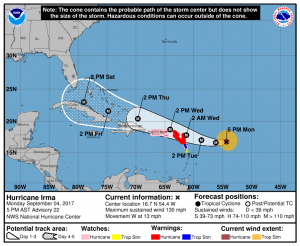 All affected passengers will be contacted by the airline's reservations department. Storm policy is in effect and customers will be rebooked at no additional cost.
Windward Islands Airways, better known as Winair, is a government owned airline and was founded in 1961. It is based in Sint-Maarten and connects the island with St. Barths, Saba and other Caribbean islands. Its fleet comprises five De Havilland Twin-Otters, one ATR 42 (operated by Air Antilles) and one MD-80 (operated by Pawa Dominicana).
4 September 2017
Photos: Copyright (c) Wikiwand / National Hurricane Center