This morning United Airlines launched its nonstop service between Newcastle and its New York hub, Newark Liberty International Airport.
The scheduled service to the USA from North East England jetted off at 9:20am. The service will continue five days a week (Monday, Tuesday, Friday, Saturday and Sunday from Newcastle, the night before from New York Newark) until 7 September 2015.
Flight UA159 will arrive at New York/Newark at 12:00pm the same day. Flights are timed to allow passengers to connect at New York/Newark with an extensive network of services to destinations throughout the Americas.  From New York/Newark, United operates flights to more than 300 destinations in North, Central and South America and the Caribbean.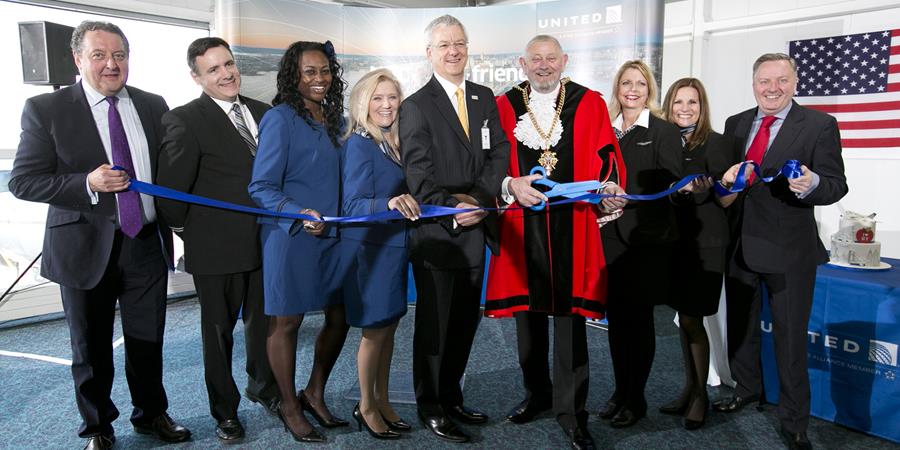 "We're delighted to offer the people of the North East convenient, nonstop flights to the United States for the first time," said Bob Schumacher, United's Managing Director Sales – U.K. and Ireland. "This new service connects Newcastle not only with New York City but also with hundreds of other destinations throughout the Americas via United's Newark Liberty hub, giving our customers a huge range of travel options."
Bob Schumacher and David Laws, Chief Executive of Newcastle International Airport, were joined by Councillor Ian Graham, Sheriff of the City of Newcastle, and Councillor Iain Malcolm, Leader of South Tyneside Council and lead of the LA7 shareholders, at today's ribbon-cutting ceremony.
Commenting on the inaugural, David Laws said:  "This is a very proud moment.  Today's inaugural flight to New York is the culmination of many years of work by the team at Newcastle Airport.  We have listened to what businesses and people across the region want and then worked incredibly hard to deliver this for them.  United Airlines is a major global operator and, through its Newark hub, provides a very wide range of onward connections.  I have said before that this has the potential to be a game changing route, and a significant milestone for both the Airport and the region. This morning the service gets off to a great start, and I am very hopeful that this success will continue so that we welcome the route back in 2016."