The Bay Area's leading U.S. carrier offers customers more flights and larger aircraft to popular destinations in the U.S. and Canada
United Airlines (UAL), the leading carrier in the San Francisco Bay Area, today announced it is increasing the number of flights between SFO and eight destinations. Additionally, the airline announced it will convert select regional jet flights to larger mainline aircraft in ten markets. These schedule enhancements build on previously announced new service from SFO to seven U.S. cities beginning June 8.
"Every day in San Francisco we proudly welcome more than 30,000 customers aboard United Airlines and today's announcement demonstrates our commitment to being the Bay Area's leading U.S. airline," said Mike Hanna, United's vice president of its San Francisco International Airport hub. "These additional flights and larger aircraft to new cities and those already part of our network will offer customers even more convenient flight options and easy connections to popular destinations around the U.S. and Canada."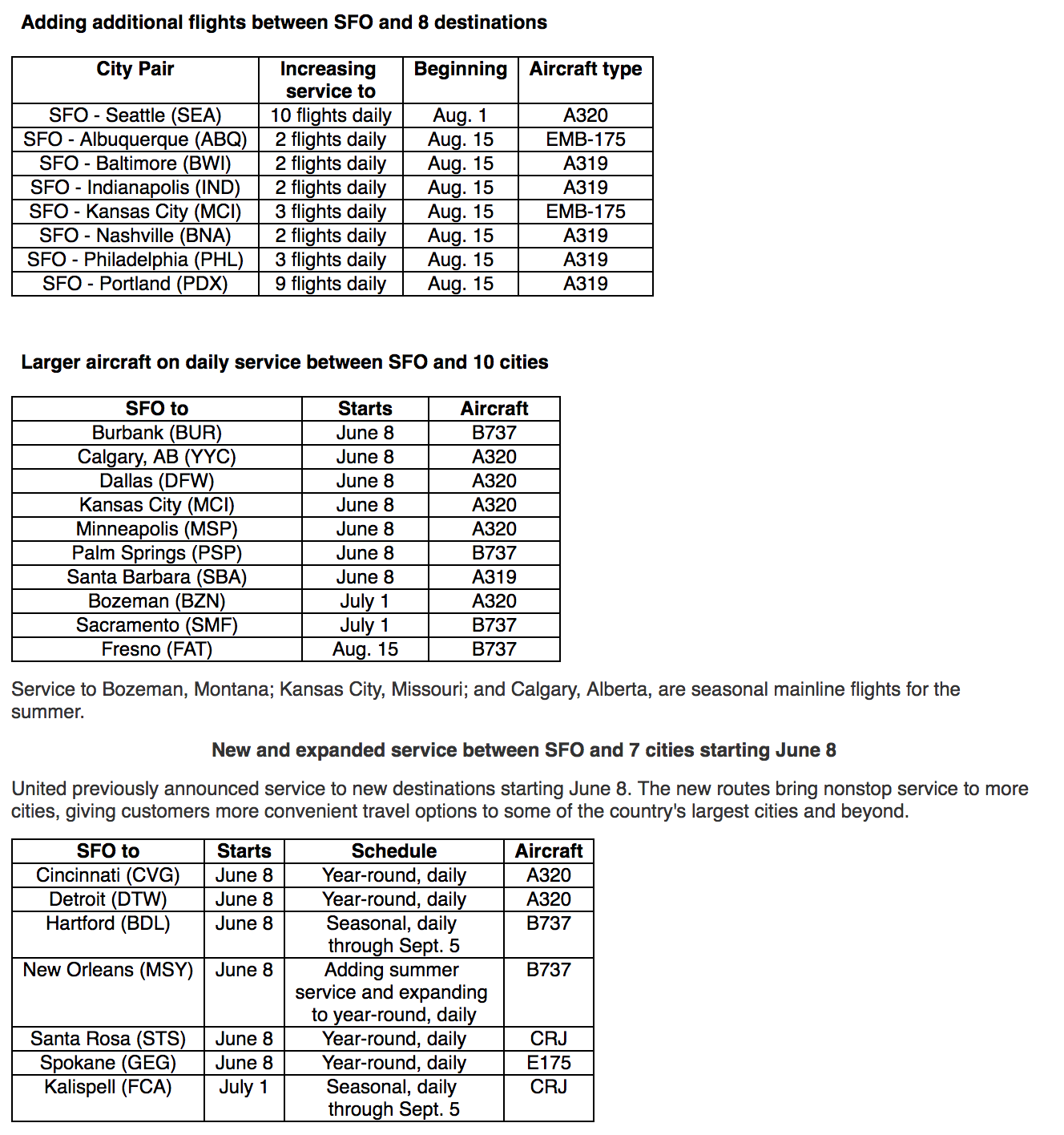 United has approximately 300 daily departures to nearly 100 destinations from San Francisco, more than any other carrier in the Bay Area.
New trans-Atlantic service
Earlier this year, United announced new service to 31 destinations across the U.S. and Europe, including new seasonal service between San Francisco and Germany. Starting May 24, for the first time ever, United will launch nonstop, seasonal service between San Francisco and Munich (MUC). The route will be operated with one of the most advanced passenger airplanes, the Boeing 787 Dreamliner, which delivers unprecedented operating efficiency, comfort and lower emissions.
From San Francisco, United offers year-round, nonstop trans-Atlantic service to destinations including, Frankfurt (FRA), London (LHR), Paris (CDG) and Tel Aviv (TLV).
There is no change to United's full-year 2017 capacity guidance.
San Francisco International Airport, United's gateway to the Asia Pacific
United flies nonstop to more destinations in Asia than any other U.S. carrier from San Francisco International Airport, United's gateway to the Asia Pacific. The airline provides U.S. travelers with convenient access to some of the most dynamic cities throughout Asia and gives travelers access via San Francisco for onward convenient connections to destinations throughout the United States, Canada and Latin America.
About United
United Airlines and United Express operate approximately 4,500 flights a day to 337 airports across five continents. In 2016, United and United Express operated more than 1.6 million flights carrying more than 143 million customers. United is proud to have the world's most comprehensive route network, including U.S. mainland hubs in Chicago, Denver, Houston, Los Angeles, New York/Newark, San Francisco and Washington, D.C. United operates 743 mainline aircraft and the airline's United Express partners operate 478 regional aircraft. The airline is a founding member of Star Alliance, which provides service to 190 countries via 28 member airlines. For more information, visit united.com, follow @United on Twitter or connect on Facebook. The common stock of United's parent, United Continental Holdings, Inc., is traded on the NYSE under the symbol "UAL".