United Airlines reaffirmed its commitment to
Houston

with the announcement that it will begin daily, nonstop service between its

Houston

hub and

Sydney

on

January 18, 2018

.

The new flight will be the only nonstop service to Australia from Houston and offers customers from Houston as well as from hundreds of cities across the U.S. the opportunity to conveniently travel to Sydney. United currently serves Sydney nonstop from its West Coast hubs in Los Angeles and San Francisco. This flight is subject to government approval.

At 8,596 miles, this flight will be United's second longest. Together with its service from Los Angeles and San Francisco to Singapore, United will fly the three longest flights by a U.S. carrier, making United the leader in ultra-long haul flights.
"For nearly 50 years, the City of Houston and United Airlines have built a wonderful relationship and we are thrilled that United continues investing in its operations at George Bush Intercontinental Airport and throughout our community," said Houston Mayor Sylvester Turner. "This new route is just one of the ways United is demonstrating its commitment to its customers and employees in Houston. We are looking forward to visiting Sydney and welcoming our Australian visitors with open arms to Texas."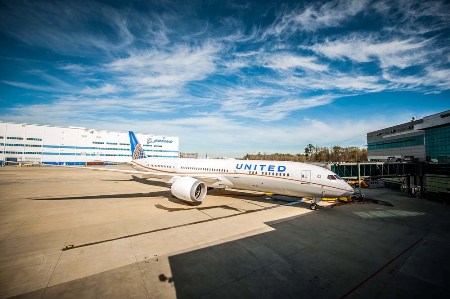 Scott Kirby, president of United Airlines said, "Our Houston hub is stronger than ever and it continues to be an absolutely vital part of our industry-leading network. We are honored to have served this vibrant city for nearly half a century, and this exciting intercontinental flight is one more way we are demonstrating United's commitment to our customers who call Houston home as well as the millions of customers who connect through Houston each year. This new route will serve more than 70 cities across North America making one-stop service to Sydney faster and more convenient than ever before."
For example, customers originating in Charlotte, North Carolina have to fly to Chicago to connect to San Francisco to get to Sydney on United today. With United's new schedule at Houston, customers would now have just one stop at Houston to get to Sydney – saving hours off the journey by reducing the number of connections.
Houston – Sydney Flight Schedule

Flight

City

Depart

City

Arrive

UA 101

Houston (IAH)

8:00 p.m.

Sydney (SYD)

6:30 a.m. +2 days later

UA 100

Sydney (SYD)

11:50 a.m.

Houston (IAH)

10:35 a.m. same day
Onboard Services
United's flight between Houston and Sydney will be operated with Boeing 787-9 Dreamliner aircraft with a total of 252 seats – 48 flat-bed seats in United Polaris business class, 63 Economy Plus seats and 141 seats in United Economy.
United Polaris business class features a reimagined, sleep-enhancing experience for intercontinental travelers, including elevated inflight food and beverages, tranquil custom bedding from Saks Fifth Avenue, comfortable pajamas and exclusive amenity kits with products from Soho House & Co's Cowshed Spa.
United Economy Plus offers additional legroom and increased personal space. Located near the front of the economy cabin, the seats give the added benefit of allowing a swifter exit from the plane on arrival.
United Economy offers complimentary food, soft drinks, juices, beer and wine, tea, coffee and inflight entertainment. Additionally, the seats feature an adjustable headrest and a personal on-demand entertainment system.
United's 787-9 Dreamliner Experience
The Boeing Dreamliner is revolutionizing the flying experience for United customers and crews while delivering unprecedented operating efficiency, comfort and lower emissions. Customers experience greater comfort with improved lighting, bigger windows, larger overhead bins, lower cabin altitude and enhanced ventilation systems, among other passenger-friendly features. The aircraft's use of lightweight composites, together with its modern engines and improved aerodynamic design, allow it to fly farther, faster and more efficiently than similar-sized conventional aircraft.
United in Australia
Since 1986, United has offered nonstop service from its West Coast hubs in the U.S. to Sydney and Melbourne. United offers daily nonstop service to Sydney from its hub at San Francisco International Airport and daily nonstop service between Los Angeles International Airport and Sydney and Melbourne. United operates all flights between the U.S. and Australia with Boeing 787-9 Dreamliner aircraft.
United in Houston
United has operated for nearly 50 years from its hub at George Bush Intercontinental Airport. United and United Express offer nearly 500 daily flights to more than 170 destinations around the world, including top business and leisure markets in Asia, Europe and the Americas. The Houston hub is United's premier gateway to Latin America, serving 51 nonstop destinations across Latin America and the Caribbean. United is also one of Houston's largest employers, with more than 14,000 Houston-based employees.
United customers are seeing a big transformation in Houston with its $277 million investment in the new Terminal C North with roomier gate areas, the latest technology and chef-inspired dining choices. This year, United and airport hospitality group OTG opened Terminal C North with five new elevated dining and retail experiences. United and OTG will start introducing more new food and retail concepts in Terminal E beginning in September.