The

 arrival of the 

Dreamliner

in Belgium

 one year ago

 has 

boosted

 

Caribbean vacations
In 2014 Jetair and Jetairfly recorded more than one third of additional vacationers in the Caribbean. One of the main reasons for this remarkable growth is the Boeing 787 "Dreamliner", on which the experts agree that it embodies the most advanced aircraft of this time. Tomorrow, there will be one year since the first and only Belgian Dreamliner landed at Zaventem. After a year of intensive use, Jetairfly summarises for the record.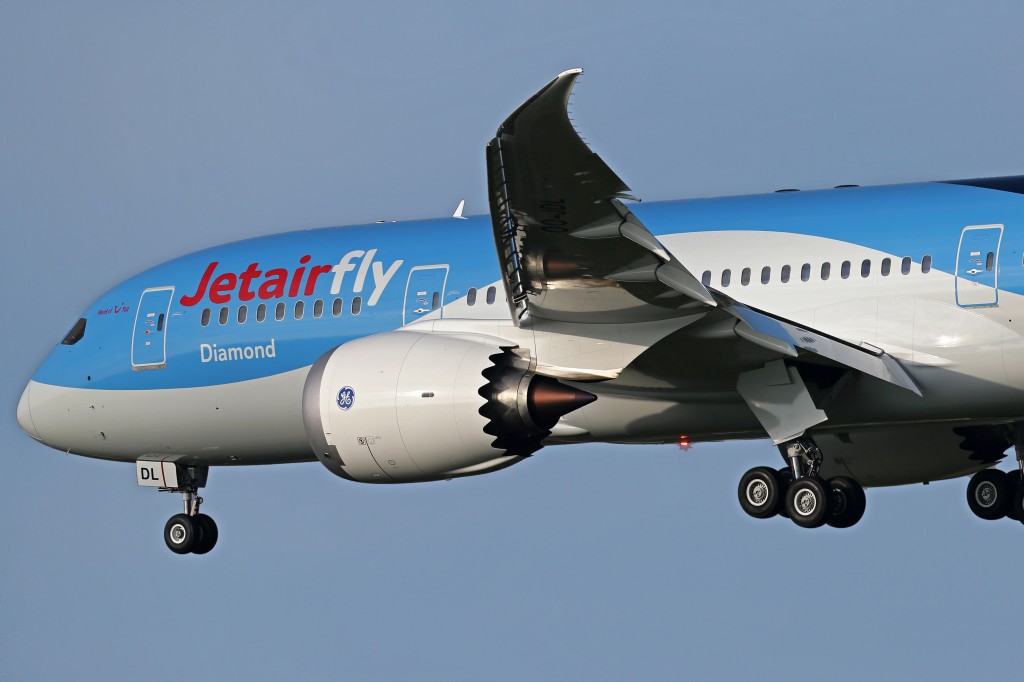 This year, exotic vacations experienced the strongest growth, said the ABTO, the professional association of tour operators, during its last press conference. With the Dominican Republic in the headlines, for which Belgium recorded this summer 27.1% more trips.
Jetair and Jetairfly, the market leader in Belgium for the Caribbean, have identified more than a third of additional travellers to the Caribbean, more than half of them opted for the Dominican Republic.
With the commissioning of the Dreamliner, Jetair and Jetairfly could further reduce the already tight price for airline tickets and stay in the Caribbean. The Dreamliner effect is thus explained not only by curiosity and passenger comfort but also by the very real advantage in terms of price.
Last year, Jetairfly performed 809 flight legs with its Dreamliner, travelling a total of 4.2 million kilometres. More concretely, this is 105 times around the earth, or 5.5 times the distance to the moon and return. The aircraft has been 5,294 hours in the air and welcomed 203,000 passengers. Jetairfly trained 38 pilots and 247 crew members on this new aircraft type.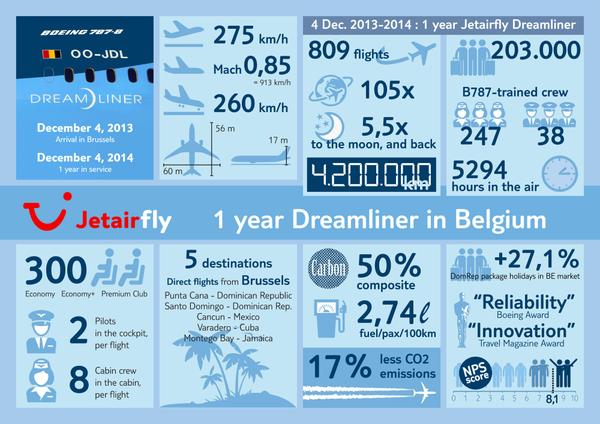 The plane is composed of 50% of composite materials (carbon), is equipped with more efficient engines and has improved aerodynamics. The measured consumption last year amounted to 2.74 litres per passenger per 100 kilometres. Per passenger on board, kerosene consumption and emissions decreased by 17% in comparison with the Boeing 767, which Jetairfly used in the past for its flights to the Dominican Republic, Mexico, Jamaica and Cuba.
The technical reliability of the Dreamliner was clearly demonstrated during the first year of operation. Jetairfly is also the first airline in the world to have been awarded the "Reliability" award from Boeing. Last year, passengers were very enthusiastic about on-board comfort and awarded the aircraft a 8.1 NPS (Net Promoter Score). And for good reasons: the air on board the Dreamliner is less dry, the traveller has the feeling of having more space, there is less noise and a full entertainment system with individual screens entertains each passenger.

Press release, Zaventem, December 3, 2014