New Aircraft Offer Extended Range, More Capacity and Opportunity for Improved Revenue and Cost Performance
A321neo Powered by CFM Engines Reinforces Airline's Commitment to Sustainability, with Up to 20% Gains in Fuel and Carbon Efficiency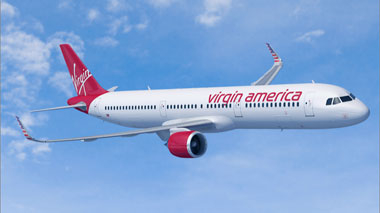 Virgin America today announces it has agreed to acquire 10 new state-of-the-art Airbus A321neo aircraft, which are up to 20 percent more fuel and carbon efficient than the airline's current fleet and which will help further reduce operating unit costs and increase revenue opportunities. The 10 new A321neos (short for New Engine Option), which provide the best seat-mile costs of any single-aisle aircraft on the market, are slated for delivery beginning in the first quarter of 2017 continuing through the third quarter of 2018, and will be leased from GE Capital Aviation Services (GECAS).
With this delivery schedule, Virgin America is expected to be among the first airlines globally to operate A321neo aircraft powered by CFM International LEAP-1A engines. The new neo engine option significantly reduces noise levels, with half the noise footprint compared to the ceo engine option[1]. The aircraft will come equipped with fuel-saving Sharklet wingtip devices, similar to the equipment on the airline's most recent aircraft deliveries, which began service in fall 2015, and the aircraft promise nitrogen oxide (NOx) emissions that are 50 percent below regulatory limits outlined by the Committee on Aviation Environmental Protection (CAEP) . In addition, the aircraft promise to deliver up to 20 percent reduced fuel burn over current generation aircraft per seat, which is equivalent to cutting 5,000 tons of CO2 emissions per plane every year.
In addition to their environmental and sustainability benefits, the new A321neos will position Virgin America to take advantage of new revenue opportunities and further improve its unit costs. With its stretched fuselage and cabin innovations, the aircraft allows for more seating capacity without sacrificing the award-winning guest experience the airline has become known for over the past eight years. The aircraft will be configured for Virgin America to include 185 total seats, roughly 24 percent more seating capacity than the airline's existing A320 aircraft. The A321neo has a similar configuration to – and will feature 95 percent airframe commonality with – other aircraft in the Airbus A320 Family, thereby ensuring a seamless fit into Virgin America's existing fleet of A320s and A319s. By operating a single fleet type, Virgin America is able to avoid the costs and added operational complexity that come with maintaining different fleet types.
"As Virgin America continues to grow its network, there's no question the Airbus A321neo is the right aircraft for us, and we were pleased to work with GECAS to make today possible," said Virgin America President and CEO David Cush. "Not only will these aircraft allow us to further reduce our unit costs and improve our revenue position, they demonstrate our continued commitment to reducing carbon emissions and creating an even more sustainable airline."
"I'm proud to say that Virgin America already has one of the most fuel efficient fleets in the U.S. industry, and this announcement only builds on that. At the heart of each Virgin company, including Virgin America, is the idea that great business performance and innovation can and must go hand-in-hand with a drive to make things better for the planet and its people. This aircraft order is a good example of that spirit in action," said Virgin Group founder Sir Richard Branson.
"We are certainly delighted that Virgin America has elected to expand its LEAP-1A-powered A320neo fleet," said Jean-Paul Ebanga, president and CEO of CFM International. "They have been a CFM customer from their very inception, as well as being the launch customer for the LEAP-1A engine. We can't wait to introduce the fuel efficient, environmentally friendly LEAP-1A to their fleet. We believe it will be a real asset for the Virgin America fleet, offering better fuel efficiency and lower noise and emissions while still providing the industry-leading reliability and low overall cost of ownership they have come to expect from CFM."
Today's announcement by Virgin America reinforces the airline's commitment to sustainability and minimizing its carbon footprint by investing in the latest aircraft and engine technologies. Virgin America maintains a relatively young fleet that, even prior to the addition of these new, greener A321neos, is already 15 percent more fuel efficient than the U.S. industry average. Recently, Virgin America joined forces with NASA to test new software created by the space agency that will help reduce fuel consumption and carbon emissions. The technology connects to existing cockpit systems and allows for easier, more automatic route optimization, which could eventually help Virgin America use up to 1.4 million fewer gallons of fuel every year. Virgin America was also the first U.S. airline to document its carbon footprint via the Climate Registry's accepted standards.
Furthering its green credentials, in 2011, Virgin America opened its sleek and energy-efficient new home at San Francisco International Airport's Terminal 2 (T2). The Terminal achieved LEED® Gold-certification, and Virgin America's T2 office spaces in 2012 achieved the highest possible LEED® Platinum-certification. Both the Gold and Platinum levels are the first such certifications for a major commercial airport in the U.S. The airline's Burlingame, California Headquarters has a LEED®-certified Silver standard and has an Energy Star Rating of 87 out of 100.
Virgin America currently operates a fleet of 58 Airbus A320 Family aircraft comprised of A319 and A320 aircraft equipped with original "ceo" engine options. By mid-2016, Virgin America will have taken delivery of five additional A320ceos, bringing the total size of Virgin America's fleet to 63 aircraft before the new A321neos begin to arrive in 2017.
Virgin America offers mood-lit aircraft with three custom-designed classes of service, touch-screen personal entertainment and an on-demand food and cocktail menu on every flight. In addition to a Main Cabin that offers custom leather seating with a deeper, more comfortable pitch, the airline's First Class cabin offers plush white leather seating with 55 inches of pitch, 165 degrees of recline and lumbar massagers. The carrier's Main Cabin Select service offers 38-inches of pitch, free food and cocktails, an all-access pass to media, dedicated overhead bins and priority check-in/boarding. The Red™ entertainment platform offers guests their own seatback touch-screen, with dozens of the latest release films, TV, interactive maps, videogames, a 3,000 song library, surround sound technology and an on-demand menu, which allows flyers to order from their seatback any time during a flight. With a full service First Class menu and a unique on-demand menu in the Main Cabin, Virgin America was named Travel + Leisure Magazine's "Best U.S. Airline for Food" in 2014 and 2015. Virgin America has also been a stand-out in the industry for its operational performance. For the past three years, Virgin America has been recognized as the number one ranked carrier in the Airline Quality Rating (AQR) report, an annual study of U.S. domestic airline performance conducted by professors at Wichita State University and Embry-Riddle Aeronautical University – measuring on-time performance, customer complaints, denied boarding and mishandled bags.
Since its 2007 launch, Virgin America has created nearly 3,000 jobs. As of March 15th, 2016, the airline will serve 24 destinations in the U.S. and Mexico.
SAN FRANCISCO, Dec. 15, 2015 /PRNewswire/