TAP Maintenance & Engineering (TAP M&E) performed the world's first Sharklet retrofit of an in-service ACJ319 VIP on behalf of Airbus Corporate Jets, as part of the first turn-key project for Comlux The Aviation Group. All the work was carried out by TAP M&E Unit based at the Company's Headquarters in Lisbon, being this retrofit the first ever on any version of the A319 airliner.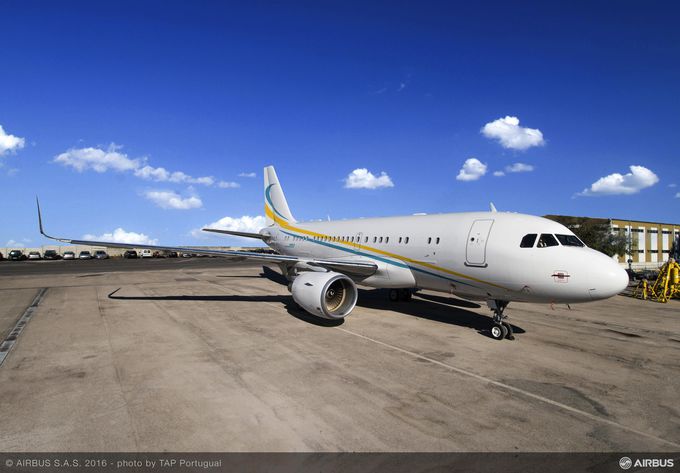 In accordance to an Airbus audit report the Sharklets project development and completion at TAP demonstrates the capability to implement complex modifications. With the heritage of previous Sharklets installation on TAP aircraft, manufacturing dossier, process and tolling are continuously optimized in order to perform the modification in an optimized flow. Level of experience, organisation and resources put in place, granted that TAP Lisboa can be involved in other aircraft maintenance activities, and can become an Airbus approved supplier for aircraft maintenance scope activities.
TAP M&E reached an industry-first by retrofitting this Airbus ACJ319 with Sharklets and the MRO presents itself to the market as the best available solution for Sharklets retrofit. The utilization of state of the art and innovative tooling enables TAP M&E to save down time and increase the quality of the work when compared with traditional methods and tooling.
"We are very proud with the results of the work of our team, which enabled TAP M&E to re-deliver the Comlux ACJ319 aircraft to AIRBUS Corporate Jets one day ahead of schedule. The work scope was provided with quality standards since our solution has been crafted after months of careful planning and testing before the first embodiment on an A320, to ensure a safe, efficient and smooth work flow from day one", said Mário Lobato de Faria, TAP M&E Executive Vice President.
Sharklets act as a barrier to the flow of air around the aircraft's wingtips, providing a significant reduction in drag that results in fuel-savings. They are available as optional retrofits on all A320 aircraft produced in recent years, and are standard fit on all A320neo aircraft.
TAP M&E is the MRO that has retrofitted more in-service A320 Family airliners in the world and the only one to have retrofitted an A319 aircraft.
2016-09-23