TAP WITH MICHELIN STARS ON-BOARD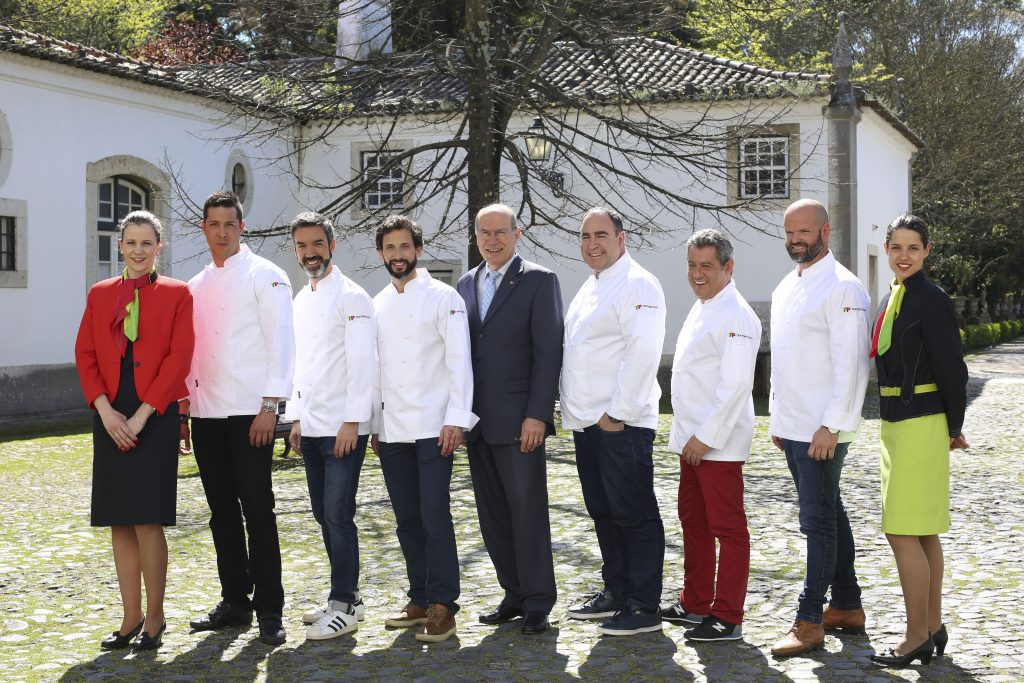 Henrique Sá Pessoa, José Avillez, Miguel Laffan, Rui Paula and Rui Silvestre join Vítor Sobral for a taste of excellence on board the company's aircraft.
TAP is collaborating with five Chefs with Michelin stars who, along with Chef Vítor Sobral, TAP's cuisine consultant, will further enhance its clients' travel experience. In this way, the Airline is really going places on its mission as Portugal's ambassador to the world, showing off Portuguese flavors prepared by the country's most renowned Chefs.
From September on, each month's in-flight meal will be a creation from one of the Michelin star chefs who have accepted the challenge to promote the best of Portuguese cuisine.
"Portugal is often referred to by the international media as 'the best kept secret in Europe'. TAP's commitment by announcing this project is perfectly clear: we will do everything we can so that Portugal is no longer a secret", said Fernando Pinto at the official launch of this project in the Palácio Pimenta, in Lisbon.
TAP's chairman believes this agreement with the six Chefs "will allow more people to discover the excellence of our cuisine and fall in love with Portugal: with its aromas, its scents, its sunshine, its sea, its wines, its cuisine and its culture".
As part of this project, known as "Taste The Stars", TAP will offer a platform to other gifted chefs – young talents trained by one of the six official Chefs, and given the opportunity to present their creations and suggestions as part of the in-flight service.
TAP carries around 12 million passengers a year, and growing. In its capacity as a body that brings national flavours to the world, in 2016 TAP served 14 million in-flight meals, almost 2 million litres of water, 1.7 million litres of fruit juice and soft drinks, almost 37 thousand kilos of coffee, 175 thousand litres of beer and more than 500,000 litres of wine, all of which was produced domestically.
The Airline stands a strong international presence, especially in important markets such as the United States of America and Brazil, but also in several European and African countries. Its powerful communication mechanism which, beyond advertising, include in-flight entertainment systems, the UP Magazine, a wide network of digital communication (flytap.com, newsletters, Victoria Programme, social networks, among others) and a vast media coverage.
With programmes such as "Portugal Stopover" and "Embrace Portugal", TAP connects in a deeper way with its Portuguese identity and commits even more to promoting what is produced in Portugal.
"Taste the Stars" is another TAP commitment to show Portugal to the world. Together with some of the most reputed representatives of Portuguese gastronomy, TAP, admittedly on of the main promoters of Portugal, its destinations, gastronomy, wines, traditions and culture, will contribute to the appreciation and notability of this valuable and unparalleled heritage.
In the near future, the Portuguese airline will also revolutionize its wine list, in a new selection model which will also give Portuguese producers the opportunity to promote their products internationally.
With the "Taste the Stars" projects, the Chefs will create meals for TAP passengers, discover, promote and encourage new Portuguese cooking talents, reinvent the use of several regional products, be part of national and international TAP cooking events (in New York or São Paulo, for instance). Furthermore, the restaurants run by the Chefs will now be part of the "Portugal Stopover" programme.
2017-04-03