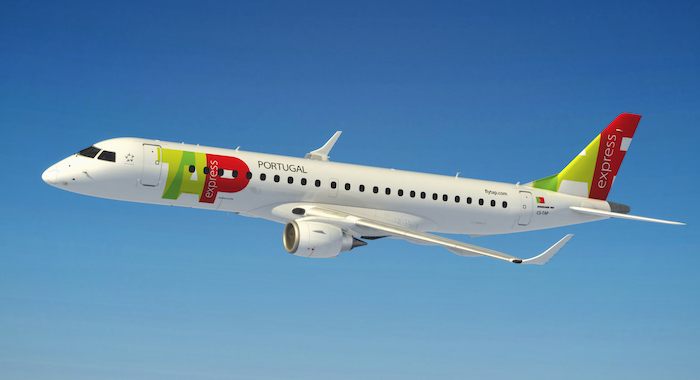 The air shuttle will offer 18 return flights a day. Flights from Porto to Lisbon will take off at regular intervals between 5:30 am and 9:30 pm and in the opposite direction between 6:00 am and 10:25 pm. This guarantees full connectivity to all of TAP's network, eliminating long waits between flights.
As a rule, four 70-seater ATR72 aircraft will be used for the air shuttle flights. The ATR72 is a very comfortable plane and flight time will be nearly the same as that of the airplanes currently used on this route. At times when demand is greater, aircraft of the Airbus A320 family will be used, and the new Embraer190 may also be used on occasion.
TAP's regional operation will therefore have a total of 17 aircraft at its disposal, eight ATR72 – four are new and the four others less than one year old – operated by White, and nine Embraer190, operated by PGA. Both fleets will fly the TAP Express colours, a new image created to better identify these services with TAP. White, which previously operated two ATRs, will now operate eight. This increase is justified by the experience and know-how the company has with this type of aircraft.
TAP currently uses ATR42, Embraer145 and Fokker aircraft in its regional operation. Soon there will be new ATR72s and Embraer190s and the older Fokkers will be taken out of use, thereby improving the quality of service and significantly reducing operating costs.
The TAP Express name will only be a trademark. TAP will continue to be the carrier, being responsible for marketing the product and accountable to the Portuguese and international authorities. PGA and OMNI will be the operators, using the ACMI system (Aircraft, Crew, Maintenance and Insurance).
PGA will continue to exist as a TAP Group company, as it has been since 2007. At the time PGA was acquired, the Portuguese Competition Authority (PCA) imposed a set of measures designed to prevent the acquisition from being used to block other operators from moving in on the Lisbon-Porto route. Tap fully complied with these measures and, as per the PCA decision, these measures expired 5 years later, in 2012.
Considering all of TAP's operations in Porto airport during the next IATA period (end of March to the end of October), TAP will have a total of 13,563 flights compared with 13,321 the year before.
The cancellation of routes to four European cities with departures from Porto is also confirmed. Despite good occupancy rates, the operating costs on these routes prevent them from being profitable at this time. In fact, these four routes represent a loss of 8.02 million euros for TAP.
New route between Lisbon and Vigo  
Beginning 1 July, TAP will be offering daily flights between Lisbon and Vigo, a decision that is completely unrelated to operations between Lisbon and Porto.
It is simply designed to service a significant amount of traffic from Galicia, especially business traffic. This traffic does not currently use our services via Porto due to a lack of diversity with respect to the types of destinations and frequencies available from Sá Carneiro Airport, instead using the Madrid hub, to which there are about ten daily flights. The 70 daily seats to be offered will have no impact on operations at Sá Carneiro Airport.
2016-02-15