A flaps problem on this Surinam Airways Airbus A340-313 registered PZ-TCR from Amsterdam to Paramaribo, forcing the pilots to return twice to Amsterdam Schiphol! A detailed story below:
At 11:00 am local time Surinam Airways flight SLM-993 took off from Amsterdam runway 36L, but soon after take off the crew noticed a problem with the flaps. The pilots were forced to dump fuel above the North Sea and decided to return to Amsterdam Schiphol Airport. (image 1)
Around 16:00 local time, the Airbus A340 took off a second time from runway 36L convinced that the flaps issue was solved. Unfortunately, the crew noticed that the same problem reocurred, the pilots leveled off at FL100 followed by another holding to dump fuel above the North Sea, and another return to Schiphol Airport. (image 2)
The flight is codeshared with TUI Netherlands as OR-9301, the aircraft returned from maintenance at Malta Airport two days ago.
During the repair the passengers had to stay on board, with a sandwich and a bottle of water.
Forum discussion: http://www.luchtzak.be/forums/viewtopic.php?f=7&t=61391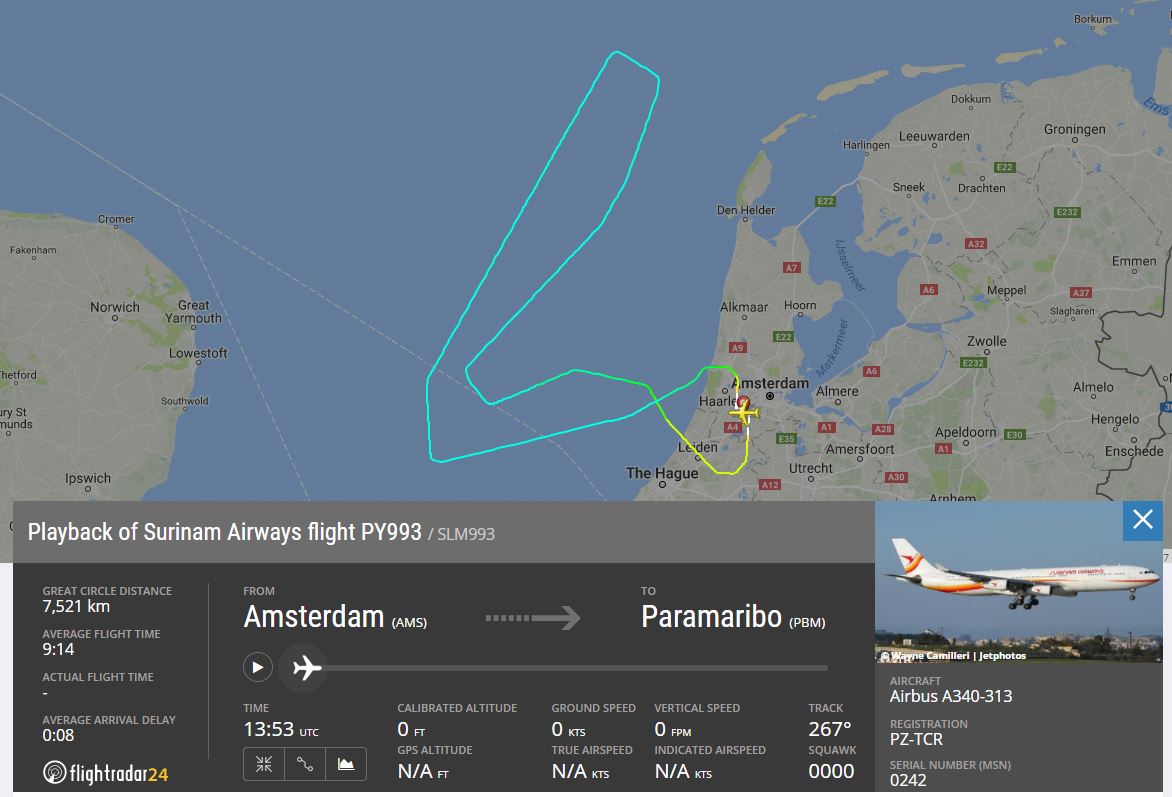 Aircraft, last week on FR24: https://www.flightradar24.com/data/aircraft/pz-tcr/
Aircraft, history on Airfleets.net: http://www.airfleets.net/ficheapp/plane-a340-242.htm
First departure – Flightradar24.com: https://www.flightradar24.com/data/airc … r/#d1cfcda
Second departure – Flightradar24.com: https://www.flightradar24.com/data/airc … r/#d1db4c3