Yesterday Sebastian Kienle -a German long-distance triathlete, winner of the 2014 Ironman World Championship, as well as the 2012 and 2013 Ironman 70.3 World Championship- took a flight from Frankfurt to Brisbane, Australia. But was "ridiculously charged" by Singapore Airlines for taking his bike.
Most airlines do charge for taking your bike, SWISS for example charges 100€ for a bike on intercontinental travel, however Emirates Airlines and Singapore Airlines' additional baggage charges are different:
Your sporting equipment – such as golf clubs, surfboards, canoes, scuba diving apparel, skis and bicycles – counts towards your free baggage allowance. If you exceed this allowance, the usual additional baggage charges will apply.
Sebastian paid 4000€ for his return flight to Brisbane, and now faces an additional cost of 837,58€ (and the same amount on the flight back), he posted this angry message on his Facebook-account: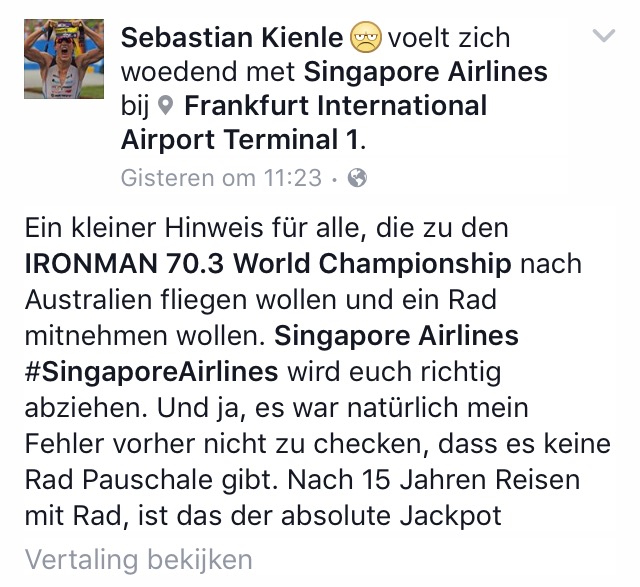 A little suggestion for everyone wanting to travel to the 70.3 World Championship in Australia and take your bike with you. I would advice against Singapore Airlines. My mistake that I forgot to check the bike fee, after 15 years of bike travel today I hit the jackpot.
In English he posted this reaction:
I'm flying with my bike for 15 years now. Nearly every airline charges you a bike fee, something like a 150 with LH for example. I'm flying biz and I had 30kg of 'normal' lugage. I was not aware that I will be charged 80 for every extra kg. It was my fault not to check, but 850 one way is redicules…
Note from the editor: I do know that taking extra luggage comes with an additional cost, yet 837,58€ or 935$ for taking your bike to Australia seems a "little" overpriced!