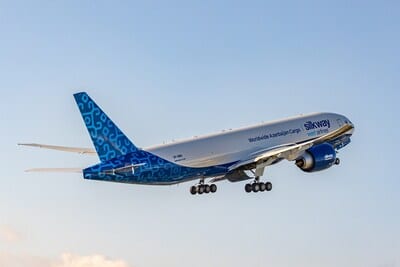 Silk Way West Airlines received its first Boeing 777 Freighter at Heydar Aliyev International Airport, marking a significant step in the airline's fleet modernisation strategy. As the newest operator of this world-leading twin-engine freighter, the 777 Freighter empowers Silk Way West to cater to the growing global cargo demand effectively.
Fadi Nahas, Vice President of Silk Way West Airlines, Americas, emphasised that this delivery aligns with the airline's goal of enhancing sustainability, fuel efficiency, and growth opportunities. The expansion of the fleet will enable Silk Way West Airlines to increase flight volumes and expand its reach to strategic destinations, further establishing Baku as a vital regional and global transportation hub.
The Boeing 777 Freighter, seamlessly integrated into existing cargo operations, offers enhanced efficiency and operational flexibility. With an impressive range of 9,200 kilometres and a maximum payload capacity of 107,000 kilograms, this freighter reduces stops and landing fees on long-haul routes. Its spacious fuselage allows the transportation of tall and oversized cargo on 3-meter-tall pallets, with a wide main deck side cargo door facilitating the loading of taller and wider cargo.
The 777 Freighter's exceptional fuel efficiency, coupled with Silk Way West's selection of the 777-8 Freighter, aligns with the airline's sustainability objectives, both in the short and long term. With the global air cargo fleet projected to grow by over 60% in the next two decades, the 777 Freighter positions Silk Way West to expand its cargo operations effectively.
Boeing's 777 Freighter, the top-selling freighter globally, has seen 319 orders since its program inception in 2005. Boeing remains the industry leader in cargo aircraft, contributing more than 90% of dedicated freighter capacity worldwide, including both new and converted aeroplanes.