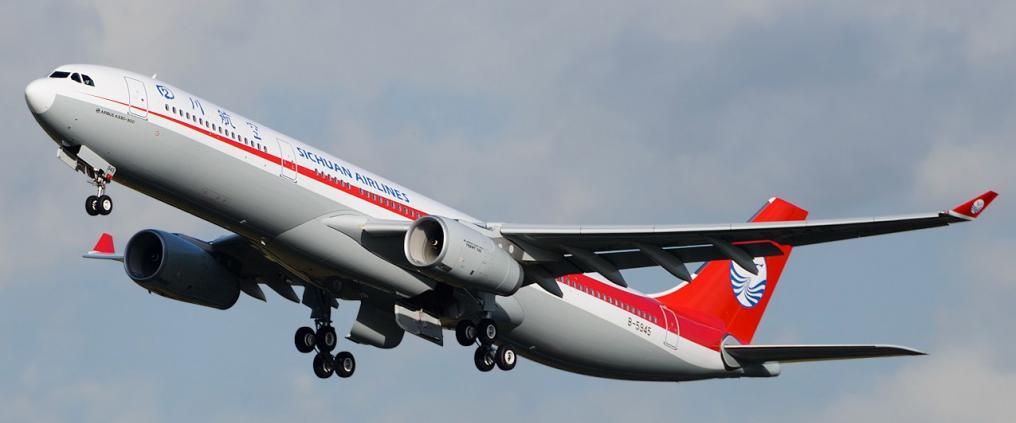 Chinese air carrier Sichuan Airlines will open twice a week connection from Sichuan province capital Chengdu to Helsinki. The direct flights will be operated on Mondays and Fridays with a connection to and from Copenhagen.
The aircraft will continue from Helsinki to Copenhagen. The route is operated by Airbus A330 aircraft with 34 business class seats and 256 economy seats. Arrival time in Helsinki is 6:00 local time in the morning and flight to Copenhagen departs at 8:35 coming back to Helsinki at 13:35. Flight to Chengdu leaves Helsinki at 14:30.
Sichuan Airlines started flights to Copenhagen in December 2018 and thus now includes Helsinki to the route. The flights between Helsinki and Copenhagen will be operated as Non-Schengen flights. Therefore passengers will need to have their passports with them if they should fly Helsinki-Copenhagen part of the connection. In addition to Helsinki and Copenhagen, Sichuan Airlines operates directly to Moscow, St Petersburg and with a layover to Prague and Zurich. All Sichuan Airlines European flights depart from Chengdu.
"This is an important step for Finavia and Helsinki Airport to have Sichuan Airlines to add Chengdu connection to our offering of Chinese destinations. Helsinki Airport has now eight destinations in Greater China by four airlines" says Joni Sundelin, Director of Helsinki Airport.
"We are happy to open Finland as a destination in Europe and to connect Sichuan with one of the biggest hub airports between Europe and Asia. Sichuan Airlines provides passengers high quality and comfortable travel", says Li Guang, vice general manager from Sichuan Airlines.
Chengdu is the capital of Sichuan province and one of the three most populous cities in western China along with Chongqing and Xi'an. With about 11 million habitants, Chengdu is the political and economic centre of Southwestern China. Sichuan Airlines is the third Chinese carrier to commence flights from greater China to Finland. Earlier in 2019, Tibet Airlines and Juneyao Air started operations to Helsinki Airport.
Sichuan Airlines Co., Ltd. was established in 2002. Its predecessor, Sichuan Airlines Company was founded on September 19, 1986, and started operations on July 14, 1988. Sichuan Airlines is part of the Sichuan Airlines Group. Until 2019, Sichuan Airlines has more than 153 Airbus planes with 300-plus air routes. Additional services and destinations are offered through an increasing portfolio of codeshare agreements.
10.9.2019 at 10:58