Saudia Airlines flight SV3818, operated by an Onur Air Airbus A330-200 (TC-OCH) and scheduled from Medina to Dhaka has diverted to Jeddah with a malfunctioning nose gear. The aircraft safely landed yet without the nose gear deployed. Passengers evacuated the aircraft via the emergency slides on the runway.
The aircraft took off at Medina at around 14:25 (UTC), only 30 minutes later the pilots decided to head for Jeddah. After some holdings above the Red Sea, at 17:18 (UTC), the aircraft approached the runway at Jeddah (reaching 825 feet) but went around for another hour of holdings. Around 18:22 (UTC) the aircraft approached a second time but went around again to make the emergency landing just half-an-hour later.
Pictures and a movie from Twitter, flight data from Flightradar24.com: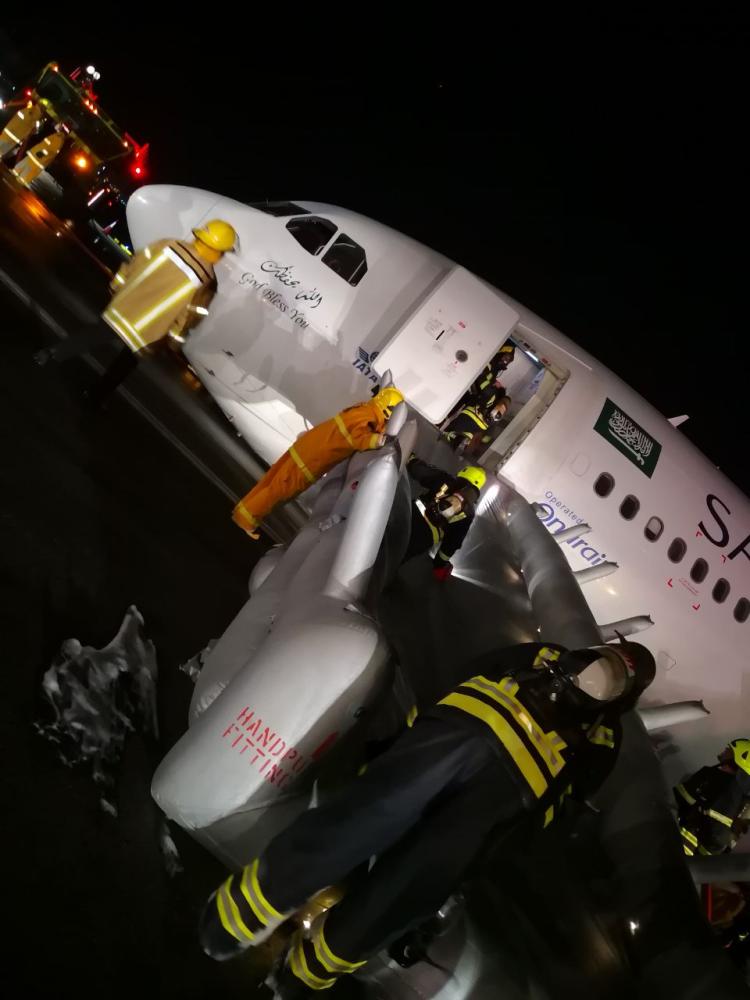 #عاجل : فيديو لطائرة #الخطوط_السعودية تهبط قبل قليل اضطرارياً بسلام في #مطار_الملك_عبدالعزيز الدولي #جدة رحلة #SV3818 #المدينة – #دكا
نتيجة لعطل فني في عجلة الهبوط الأمامية ولا وجود لإي إصابات معلنة حتى الان، الطائرة من طراز A330 #الحمدلله_على_السلامة
pic.twitter.com/2GuG5jzZg0

— حسن سجواني 🇦🇪 (@HSajwanization) May 21, 2018
On 22 May the removal of the aircraft has started by lifting the nose. During the evacuation more than 50 passengers got injured.
Saudi Arabian Airlines Airbus A330-200 (TC-OCH) gets an uplift to its nose a day after the front gear failed to deploy resulting in an emergency landing at Jeddah Airport. There were more than 50 injuries during evacuation of flight #SV3818. pic.twitter.com/0lZt4Mme67

— JACDEC (@JacdecNew) May 22, 2018