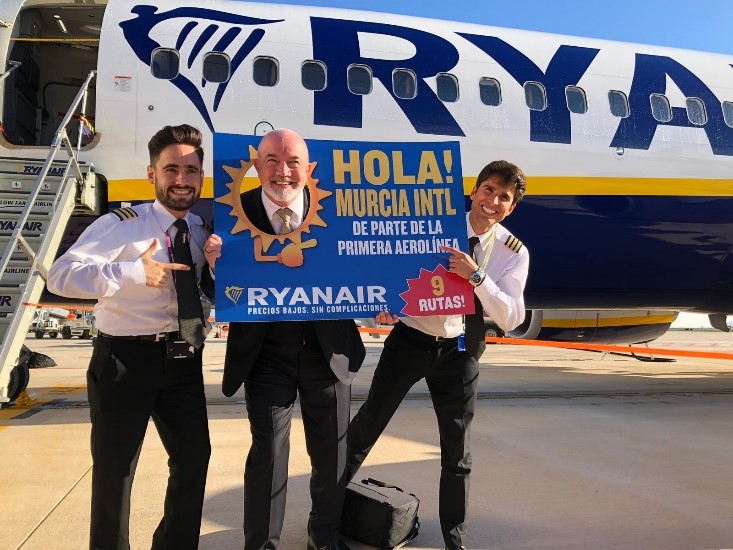 Ryanair on 15 January became the first airline to land at the new Región de Murcia International Airport (RMU), which was officially opened by his Majesty King Felipe VI of Spain.
Ryanair's new daily service from East Midlands airport was the inaugural arrival to Murcia International Airport, one of Ryanair's 9 Summer 2019 routes to/from Birmingham, Bournemouth, Dublin, Glasgow, Leeds Bradford, London Luton, London Stansted and Manchester, which will help deliver 660,000 customers p.a. through Región de Murcia International airport this year.
To celebrate the official opening of Región de Murcia International airport, Ryanair has released seats to Murcia on sale from just €19.99, for travel from February to April, which are only available for booking on the Ryanair.com website until midnight Thursday (17 Jan).
In Murcia, Ryanair's Chief Commercial Officer David O'Brien said:
"Ryanair is pleased to celebrate the arrival of our first flight at Región de Murcia International Airport. Ryanair was the first airline to touch down in Spain's newest airport, our 27th Spanish destination, where we will carry over 660,000 customers in the next 12 months.

As Spain and Murcia's number one airline, we are delighted to officially launch our first ever Summer 2019 schedule for Región de Murcia International. Ryanair's schedule includes 9 international routes to Murcia International, which will deliver 660,000 customers through this new airport.

To celebrate we are releasing seats to Murcia on sale from just €19.99, for travel from February to April, which are available for booking until midnight Thursday (17 Jan). Since these amazing low fares will be snapped up quickly, customers should log onto www.ryanair.com and avoid missing out."
President of Aena, Mr. Mauruci Lucena said:
"The start-up of Región de Murcia International Airport improves and strengthens the Aena network, which aims to always offer the best infrastructure to travellers and airlines."