The European Commission has approved unconditionally under the EU Merger Regulation the proposed acquisition of LaudaMotion by Ryanair. The Commission concluded that the transaction would raise no competition concerns in the European Economic Area.
Today's decision concerns the proposed acquisition of sole control over LaudaMotion by the air carrier Ryanair. LaudaMotion is the company through which Mr Niki Lauda re-acquired in January 2018 the assets of NIKI, the leisure air carrier he founded in 2003 and was then later integrated into Air Berlin. The assets of NIKI were for sale because in December 2017 Lufthansa decided not to acquire NIKI and NIKI immediately filed for insolvency.
The Commission's investigation
The Commission investigated the impact of the proposed transaction on the market for air transport of passengers on the routes from German, Austrian and Swiss airports to leisure destinations in the Mediterranean and Canary Islands, where the activities of Ryanair and LaudaMotion overlap.
The Commission also examined whether LaudaMotion's portfolio of airport slots to be acquired by Ryanair at different airports would allow Ryanair to prevent competitors from entering or expanding their presence at these airports. Control over a large slot portfolio at congested airports can result in higher barriers to entry for airlines wanting to operate to and from these airports, which in turn could result in higher fares for passengers.
The Commission's investigation found that:
the increase in the slot portfolio of Ryanair is unlikely to have a negative effect on passengers, and
Ryanair will continue to face strong competition from other carriers on the routes to and from airports where the activities of both airlines overlap.
The Commission therefore concluded that the proposed transaction would raise no competition concerns in any of the relevant markets.
Background
Following several years of financial difficulties, Air Berlin, Germany's second-largest airline, filed for insolvency in August 2017, resulting in the sale of its assets.
On 12 October 2017, Air Berlin announced that it had signed an agreement with Lufthansa for a large part of Air Berlin's assets, i.e. the airline NIKI and the Luftfahrtgesellschaft Walter (LGW). However, on 13 December 2017, Lufthansa decided not to acquire NIKI and NIKI filed for insolvency on the same day. On 21 December 2017, the Commission approved the acquisition by Lufthansa of LGW, subject to conditions.
Separately, on 12 December 2017, the Commission approved the proposed acquisition of other parts of Air Berlin by easyJet.
Commission's derogation decisions of 23 March 2018 and 8 May 2018
Under the EU Merger Regulation, companies have the obligation not to implement a notifiable transaction before it has been declared compatible with the common market (Article 7 (1) of the EU Merger Regulation). This serves to avoid that competition could be harmed beyond repair before the Commission has taken its decision. At the same time, EU merger rules enable the Commission to give a temporary approval for certain parts of a transaction (on the basis of Article 7 (3) of the Merger Regulation) in a way that does not harm effective competition, and in order to avoid negative effects for consumers.
On 23 March 2018 and on 8 May 2018, the Commission granted Ryanair such derogations. As a result, Ryanair was, for example, able to sell seats on LaudaMotion flights whilst the merger review was ongoing.
Companies and products
Ryanair, based in Ireland, is a low-cost point-to-point airline operating throughout Europe.
LaudaMotion, based in Austria, has recently acquired many of the assets of the former airline NIKI, and started a range of scheduled passenger flights from Germany, Austria, and Switzerland primarily to Mediterranean and Canary Island leisure destinations.
Merger control rules and procedures
The transaction was notified to the Commission on 7 June 2018.
The Commission has the duty to assess mergers and acquisitions involving companies with a turnover above certain thresholds (see Article 1 of the Merger Regulation) and to prevent concentrations that would significantly impede effective competition in the EEA or any substantial part of it.
The vast majority of notified mergers do not pose competition problems and are cleared after a routine review. From the moment a transaction is notified, the Commission generally has a total of 25 working days to decide whether to grant approval (Phase I) or to start an in-depth investigation (Phase II).
More information will be available on the Commission's competition website, in the public case register under the case number M.8869.
Brussels, 12 July 2018
___________________________________________________________________
RYANAIR WELCOMES EU APPROVAL OF ITS LAUDAMOTION PROPOSAL
Ryanair today (13 July) welcomed the EU Commission's decision to approve Ryanair's proposed acquisition of a 75% interest in Austrian airline, Laudamotion (Ryanair currently owns 24.9%). Ryanair has entered into partnership with Niki Lauda to offer competition, lower fares, and more choice for consumers in Austria, Germany, and Spain, which is where the majority of Laudamotion services currently take place.
However, Laudamotion is currently under threat by Lufthansa who are attempting to remove the 9 aircraft Lufthansa was obliged by the European Commission to provide to Laudamotion in order to allow Laudamotion to restart services.
This is the latest in a series of efforts by Lufthansa to destabilise and damage Laudamotion, which has seen:
Lufthansa fail to deliver 2 of the 11 aircraft they were required to under the EU Competition decision concerning Lufthansa's acquisition of Air Berlin.
Some of the aircraft that Lufthansa had committed to deliver being delayed until after the summer 2018 season, further reducing Laudamotion's ability to take up slots and offer S2018 flights and services.
Laudamotion only able to operate a 19 aircraft fleet in summer 2018 by wet leasing 10 B737 aircraft from Ryanair.
Lufthansa Group delay payment of over €1.5m of wet lease payments properly due to Laudamotion, for flights which Laudamotion operated for Lufthansa in March, April and May.
Ryanair remains committed to bringing competition and choice to Austrian, German and Spanish markets through this investment in Laudamotion and called on the competition authorities to halt Lufthansa's repeated abuses of its dominant position, which are designed to harm competition and consumers.
Ryanair's Chief Legal & Regulatory Officer, Juliusz Komorek said:
"We welcome the EU Commission's decision to approve Ryanair's proposed acquisition of a 75% interest in Laudamotion. Ryanair remains committed to bringing competition, choice and low fares to the Austrian, German and Spanish markets through our investment in Laudamotion. We urge the EU competition authorities to take action and prevent any further attempts by Lufthansa to damage competition through its anti-consumer behaviour."
_____________________________________________________________________
Lufthansa Group refutes false allegations by Ryanair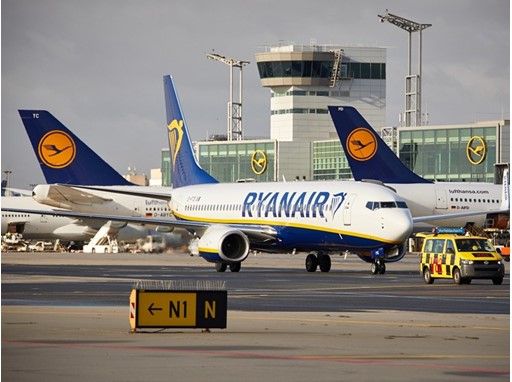 Irish low-cost carrier Ryanair issued a press release today on its planned takeover of Laudamotion. The Ryanair allegations are completely unfounded.
Lufthansa has fully complied with all EU Commission obligations regarding the required transfer of aircraft to Laudamotion. This is true of both the number of aircraft involved and their leasing terms.
All the aircraft covered by the EU derogation decision were offered for sale to Laudamotion by Lufthansa. Laudamotion rejected this offer, preferring to lease the aircraft instead.
Laudamotion has recently failed – repeatedly – to meet its contractually-agreed lease payment obligations.
As the Eurowings Group needs aircraft, Lufthansa has exercised its contractually-agreed right of termination because of a violation of contractual terms by Laudamotion, and has terminated the lease agreements on nine aircraft due to the non-payment of the lease amounts involved.