Ryanair today (23 June) welcomed confirmation from IATA that it remains the world's favourite airline after IATA's latest World Airline Transport Statistics showed Ryanair once again carried more international customers than any other airline.
Ryanair carried over 86.3m international passengers last year, 30m more than second-placed Easyjet (56.3m) and almost 40m more than third-placed Lufthansa (48.2m).
Ryanair will carry more than 100m customers this year and celebrated being the world's favourite airline by releasing 100, 000 seats for sale across its European network, at prices starting from €19.99 for travel in July & August. These low fare seats are available for booking on the Ryanair.com website until midnight Thursday (25 June).
TOP 10 AIRLINES: RANKED BY INTERNATIONAL TRAFFIC (CUSTOMERS)*: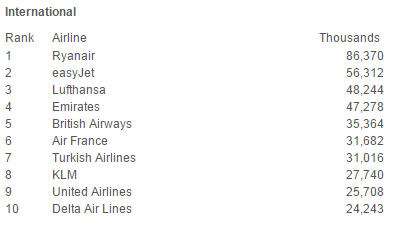 * IATA World Transport Statistics (2014 edition)
Ryanair's Robin Kiely said:
"IATA has once again confirmed that Ryanair remains the world's favourite airline, carrying more international scheduled customers than any other carrier. Alongside our new routes, increased frequencies, Business Plus and Family Extra services, Ryanair customers can now look forward to further service enhancements, as we roll out Year 2 of our Always Getting Better programme in 2015. This will include a new website, new app, new cabin interiors, new crew uniforms, improved inflight menus, reduced fees, and great new digital features such as 'hold the fare' and price comparison services, as Ryanair continues to deliver so much more than just the lowest fares for our 100m annual customers.
To celebrate, we have released 100,000 seats for sale across our European network, at prices from €19.99 for travel in July and August. These low fare seats are available for booking until midnight Thursday (25 June)."