Ryanair launched a massive "Thanks A Billion" seat sale to mark carrying its one billionth customer. Ryanair is thanking the one billion customers who have made it Europe's biggest airline by offering 20% off 1 million seats across its European network for travel between 13 November and 15 December, ensuring even more savings for its customers.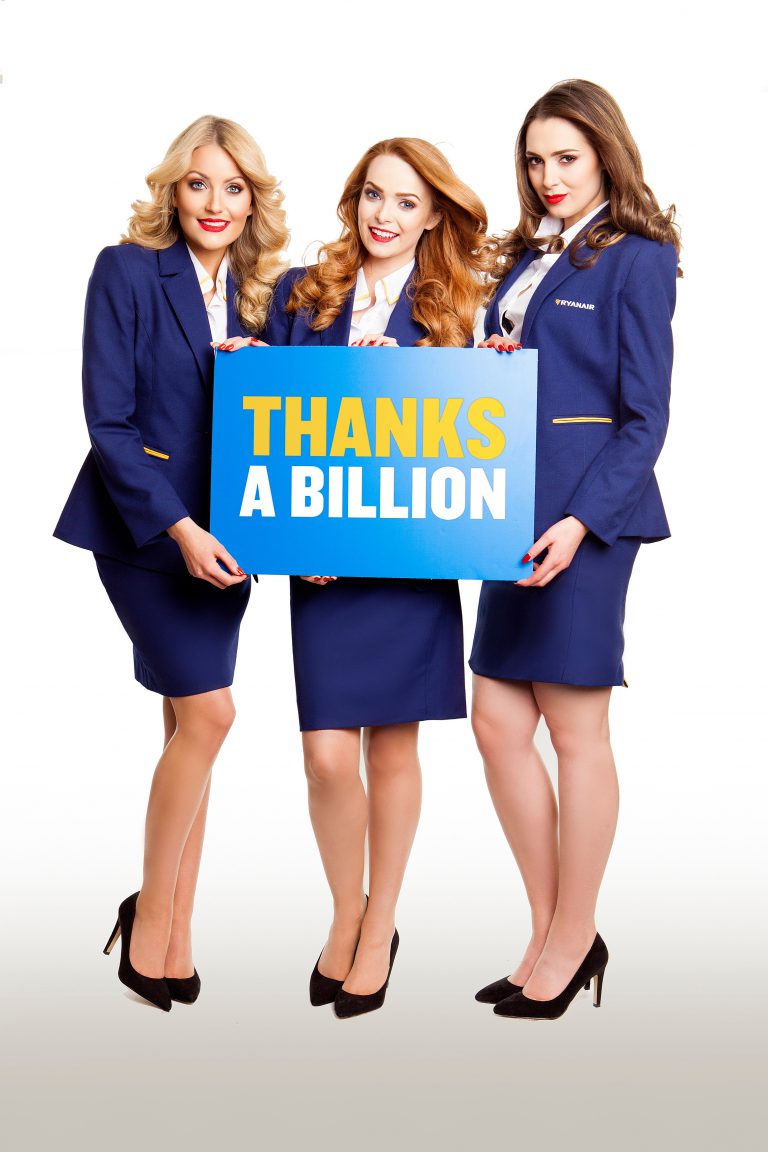 These incredible seat sale fares are available for booking now until midnight (24:00hrs) on Wednesday (2 Aug) and can only be found on the Ryanair.com website.
Ryanair's Kenny Jacobs said:
"To celebrate welcoming our billionth customer since our first flight in 1985, Ryanair is slashing fares across our European network in our 'Thanks A Billion' seat sale. There has never been a better time to book a low fare getaway with 20% off over 1 million seats across our entire European network for travel in November and December. This amazing offer will end at midnight on Wednesday, August 2nd, so customers should log on quickly and bag a bargain break today."
Ryanair launched its latest customer experience improvements under Year 4 of its "Always Getting Better" programme which includes Alexa voice recognition – allowing customers to search flights, hotels and flight status on the Ryanair.com website.
Ryanair also announced it had chosen Zodiac to provide new slimline seats on its Boeing 737 MAX "Gamechanger" aircraft, which deliver in Spring 2019, and which have more space (more legroom and overhead lockers) due to Boeing's redesign of the aircraft to remove the rear galley and relocate the two rear toilets into that space. This redesign combined with these Zodiac slimline seats will allow an additional 8 seats per aircraft (197 v 189) and Ryanair customers will enjoy a roomier 31" seat pitch – more legroom than British Airways and Lufthansa economy seats.
These Year 4 "AGB" initiatives are the latest steps in Ryanair's journey to becoming the 'Amazon of Travel' and follow flight connections being trialled in Rome and Milan, long haul Air Europa flights on sale via Madrid, an exclusive partnership with the Erasmus Student Network, Apple Pay integration in an initial six markets and an enhanced Ryanair Rooms website – with much more to come.
Ryanair also celebrated carrying its one billionth passenger since its first flight took off from Waterford to London Gatwick, in July 1985. To celebrate its latest AGB improvements, and carrying one billion customers, Ryanair has launched a seat sale with 20% off fares on one millions seats for travel in November and December, which must be booked on www.ryanair.com by midnight Wednesday, 2nd August.
In London, Ryanair CMO Kenny Jacobs said:
"As we carry our one billionth guest since our first flight in 1985, we are pleased to announce more customer experience improvements under Year 4 of "AGB". From today, Alexa voice recognition is available on Ryanair.com, allowing customers to search for flights and hotels, or check on the status of their flights, all through voice recognition technology. We're also pleased that our new Boeing 737 Max "Gamechanger" aircraft will feature new ergonomic slimlime seats designed by Zodiac, which will further increase legroom to 31 inches."