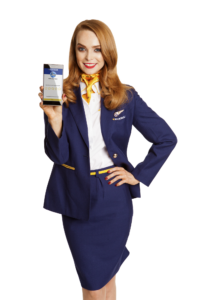 Ryanair today (26 Oct) released its 'Rate My Flight' statistics, which show that 93% of surveyed customers were happy with their overall flight experience in September.
Over 10,000 customers used the 'Rate My Flight' function in the Ryanair app in September, ranking their overall experience, boarding, crew friendliness, service onboard and range of food and drink, on a 5-star rating system, ranging from 1 star for Very Poor, to 3 stars for Ok, to 5 stars for Very Good.
Some 93% of respondents rated their overall trip 'Very Good /Good/ OK', recording similar ratings for boarding (88%), crew friendliness (93%), service onboard (94%) and range of food & drink (80%).
'Rate My Flight' is available in Dutch, English, French, German, Italian, Polish and Spanish, via the Ryanair app, which can be downloaded from the iTunes and Google Play stores.
| | | | | | | |
| --- | --- | --- | --- | --- | --- | --- |
| Category | Very Good/ Good/ OK | Very Good | Good | Ok | Poor | Very Poor |
| Overall Experience | 93% | 47% | 32% | 14% | 3% | 4% |
| Boarding | 88% | 44% | 28% | 16% | 6% | 6% |
| Crew Friendliness | 93% | 48% | 30% |  15% | 4% | 3% |
| Service onboard | 94% | 55% | 27% |  12% | 3% | 3% |
|  Food & Drink Range | 80% | 29% | 21% |  30% | 9% | 11% |
Ryanair's Robin Kiely said:
Rate My Flight is the latest digital initiative launched under year 3 of our "Always Getting Better" customer experience improvement programme, which allows customers to provide real-time reviews on their flights via the Ryanair app, from the moment they land. We welcome all customer feedback so that we can continue to improve all aspects of the Ryanair customer experience and some 93% of more than 10,000 customers were satisfied with their Ryanair flight in September. Customers who want to rate their flight should download the Ryanair app, allow for push notifications, and will be sent the survey through the app upon landing."