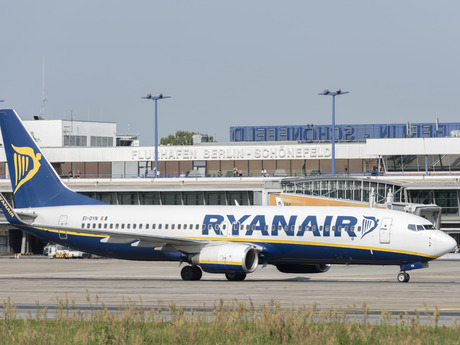 The Irish airline Ryanair is expanding its Berlin flight schedule in September with 16 additional destinations, including Belfast, Santander, Rzeszów, Niš, Podgorica and Timişoara. The low fares airline will at the same time be stationing four additional aircraft at Schönefeld.
Tim Howe Schröder, Head of Corporate Sales & Senior Marketing Manager Germany at Ryanair:
Ryanair is delighted about the launch of the Berlin to Belfast route, which we will be offering three times a week. Ryanair is offering a total of 16 new destinations from Berlin that can be flown to from 1 September. With the early commencement of our Berlin winter flight schedule, now even more customers can benefit from the improvements we have implemented as part of the "Always Getting Better" programme. These include the new aircraft interior design, new flight crew uniforms and the new, personalized website. And it is still, of course, possible to bring along a second free item of hand luggage. To celebrate the new connection from Berlin, Ryanair is offering, for a limited time, Berlin to Belfast flights starting at 9.99 euros. Flights to Brussels, Niš and Rzeszów are even available from just 5 euros. The tickets can be booked until Tuesday 6 September 2016 for travel in September. Since these low-cost flights will undoubtedly be sold out soon, customers should book their flight quickly on www.ryanair.com.
Dr. Karsten Mühlenfeld, CEO of Flughafen Berlin Brandenburg GmbH:
Four additional aircraft and 16 new destinations are a clear commitment to Berlin as a business location. The number of passengers at Schönefeld has increased by 40 per cent on average since the autumn of 2015, which is substantially due to the commitment of Ryanair. We are delighted about the further expansion of the Ryanair base at Schönefeld and wish the airline all the best for all future flights.
16 new routes from September
Ryanair now flies to a total of 42 destinations from Berlin Schönefeld. The following new connections will be appearing in future on the flight schedule:
Belfast (3x per week)
Bucharest (2x per day)
Budapest (1x per day)
Catania (2x per week)
Fuerteventura (2x per week)
Lisbon (1x per day)
Manchester (1x per day)
Niš (2x per week)
Podgorica (2x per week)
Rzeszów (3x per week)
Santander (3x per week)
Sofia (1x per day)
Thessaloniki (1x per day)
Timişoara (2x per week)
Toulouse (4x per week)
Vilnius (3x per week)
Three more destinations will be added when the flight schedule changes over at the end of October. Ryanair will then also fly to Lanzarote (2x per week), Gran Canaria (3x per week) and, for the first time from Berlin, Seville (3x per week).
New destinations from Schönefeld
The lively city of Belfast is the capital of Northern Ireland. The second biggest city on the Irish island has developed into a trendy metropolis that visitors can easily explore on foot or by bicycle. More
Rzeszów in south-east Poland is the gateway to Subcarpathia. The national parks in the surrounding area are great places to relax, offering opportunities to go hiking and riding and enjoy winter sports. More
Santander in northern Spain is the perfect destination for anyone who does not want to have to choose between a city break and a beach holiday. Almost all the beaches are accessible on foot from the city centre, and the mountainous hinterland offers great opportunities for hiking and climbing tours. More
Far away from the tourist masses, Niš in Serbia is an insiders' tip for visitors to eastern Europe. Visitors can enjoy the well-preserved natural monuments and fascinating countryside there. More
Podgorica, the capital of Montenegro, is an ideal starting point for exploring this country that has a lot to offer, from the wonderful Adriatic coast to historical towns and secluded mountain regions. More
The Romanian city of Timişoara is located in the triangle where three countries meet: Romania, Hungary and Serbia. The historical part of town is influenced by the Viennese baroque style of architecture and is even referred to as "Little Vienna". The city is a perfect starting point for exploring the Banat region, which is relatively unknown among tourists. More
Terminal C
With the increase in the choice of flights offered, the number of passengers at Berlin Schönefeld Airport will continue to rise. To minimise waiting times for passengers at the security checkpoints, we kindly ask that passengers also use the additional security checkpoints in Terminal C. Passengers wishing to make use of this service should make their way to Terminal C directly after checking in. Passengers who have checked in online and who have printed their boarding pass or have it on their mobile phone and who are only travelling with hand luggage can proceed directly to Terminal C. After security screening is completed, passengers will have access to all gates from Terminal C.
01.09.2016