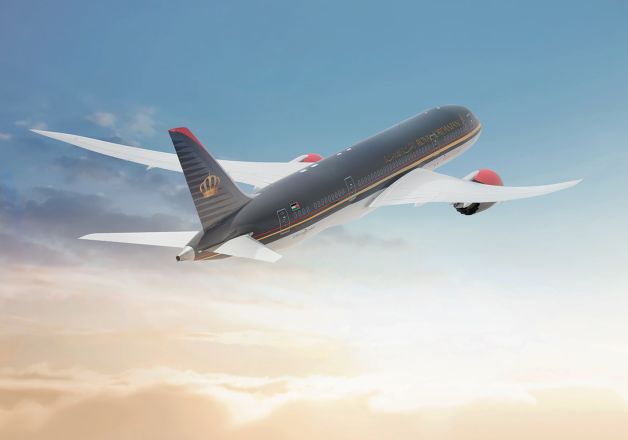 A new Boeing 787 joined the RJ fleet on November 17. It landed at Queen Alia International Airport straight from Boeing manufactures in Seattle and is the sixth 787 (Dreamliner) to become part of the airline fleet.
RJ president/CEO Captain Suleiman Obeidat, who received the aircraft upon its arrival, expressed satisfaction with the addition of this new 787 to the currently operating five aircraft of the same type, which RJ introduced at the end of 2014 as part of the plan to modernize its long-haul fleet. He said that this aircraft along with the seventh aircraft which will be joining the fleet at the beginning of 2017 are on capital lease, while the first five are operationally leased. The Dreamliners replace the Airbus 340s and 330s the company previously had; five aircraft of these two last models were phased out two years ago and two A330s will retire soon. Captain Obeidat said the 787s paved the way for RJ to step into a significant new era, a step that pushes the national carrier of Jordan forward in terms of inflight services and route network, enhancing its regional and international competitiveness. He added that all new 787s, together with the operating A320 family and Embraer jets, help RJ meet its operational needs and leverage passengers' experience. Today RJ's fleet age does not exceed five years, a young, and modern, fleet when compared internationally.Captain Obeidat pointed out that the wide-body, revolutionary aircraft is capable to fly long distances with full load non stop, making it a suitable choice for RJ to run it to North America, the Far East and Europe.
The state-of-the-art features and high specifications of the 787s offer higher levels of comfort and luxury to the RJ clients.
The Dreamliners have improved ventilation and humidity levels onboard, taking the travel experience to a new level, offering passengers more comfort and significantly reducing jetlag. It is also designed to be able to monitor safety and inform the ground systems about the need of maintenance. Customers in all classes experience cabin environment improvements, such as LED mood lighting, larger windows, bigger overhead bins, lower cabin altitude and enhanced ventilation systems, among other features. The aircraft is built of carbon-fiber composite materials and has a powerful electrical system to reduce weight and improve fuel efficiency. It consumes 20 per cent less fuel than today's similarly sized airplanes, enabling it to offer an exclusive eco-friendly performance. The new planes also enable airlines to increase their cargo revenues by providing about 20 to 30 per cent more cargo capacity than the current airplanes of the same size.