Exclusive travel experience begins online with new interactive website
Global travellers can access VIP enquiry services and flight availability at their convenience
DOHA, Qatar – The ultimate travel experience begins with a visit to Qatar Executive's newly designed website www.qatarexec.com.qa where clients can explore the world's most luxurious private jets via 360 degree interactive panoramic photography, discover flight availability, and access VIP online enquiry and charter management services from any mobile device anywhere in the world.
Qatar Executive is renowned for offering bespoke charters that focus on the needs of VIP travellers and providing an unrivalled experience on board the world's leading private jet fleet. With Qatar Executive, clients can enjoy a VIP service and global expertise throughout their journey, from online enquiry to arriving at their final destination.
The newly enhanced website reflects Qatar Executive's boundless commitment to excellence and utilises the latest online technology to provide clients with fast and convenient access to booking information, including real-time worldwide flight availability of return leg charters.
Reflecting the refined and elegant style of Qatar Executive, the new website has been designed to provide an intuitive online experience offering clients a virtual tour on board any one of its exceptional 11 aircraft, including the fastest ultra-long-range business jet in the world, the Gulfstream G650ER, which is one of the most coveted aircraft among the global travelling elite.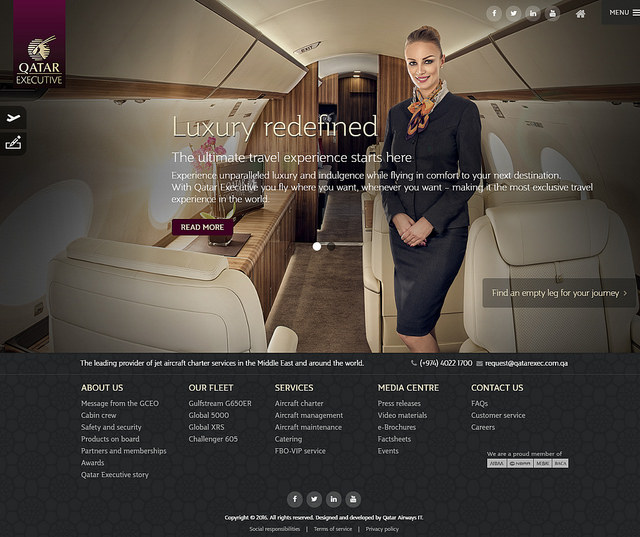 The Qatar Executive G650ER aircraft can easily fly a group of up to 13 guests non-stop from the Middle East to North America or from destinations in Asia to Africa. It can fly further, faster than any other jet of its kind, and is perfectly suited for those whose travel needs include flights halfway around the globe. The Qatar Executive fleet comprises four Global 5000s, one Global XRS, three Challenger 605s and three brand new Gulfstream G650ERs, each offering the highest levels of personalised service comfort, privacy and convenience, through flexible and individual travel to any place in the world.
Qatar Executive Vice President, Mr. Ettore Rodaro said: "With Qatar Executive customers can fly wherever they want, whenever they want, and our new website has been enhanced to provide them with more accessibility to our exclusive and luxurious private jets. With new interactive tools, mobile optimisation and improved responsiveness our customers will begin their extraordinary experience with Qatar Executive from the moment they visit us online. Private travel is the most comfortable and convenient way to fly and tailor-made services ensure that all clients' travel needs are accommodated."