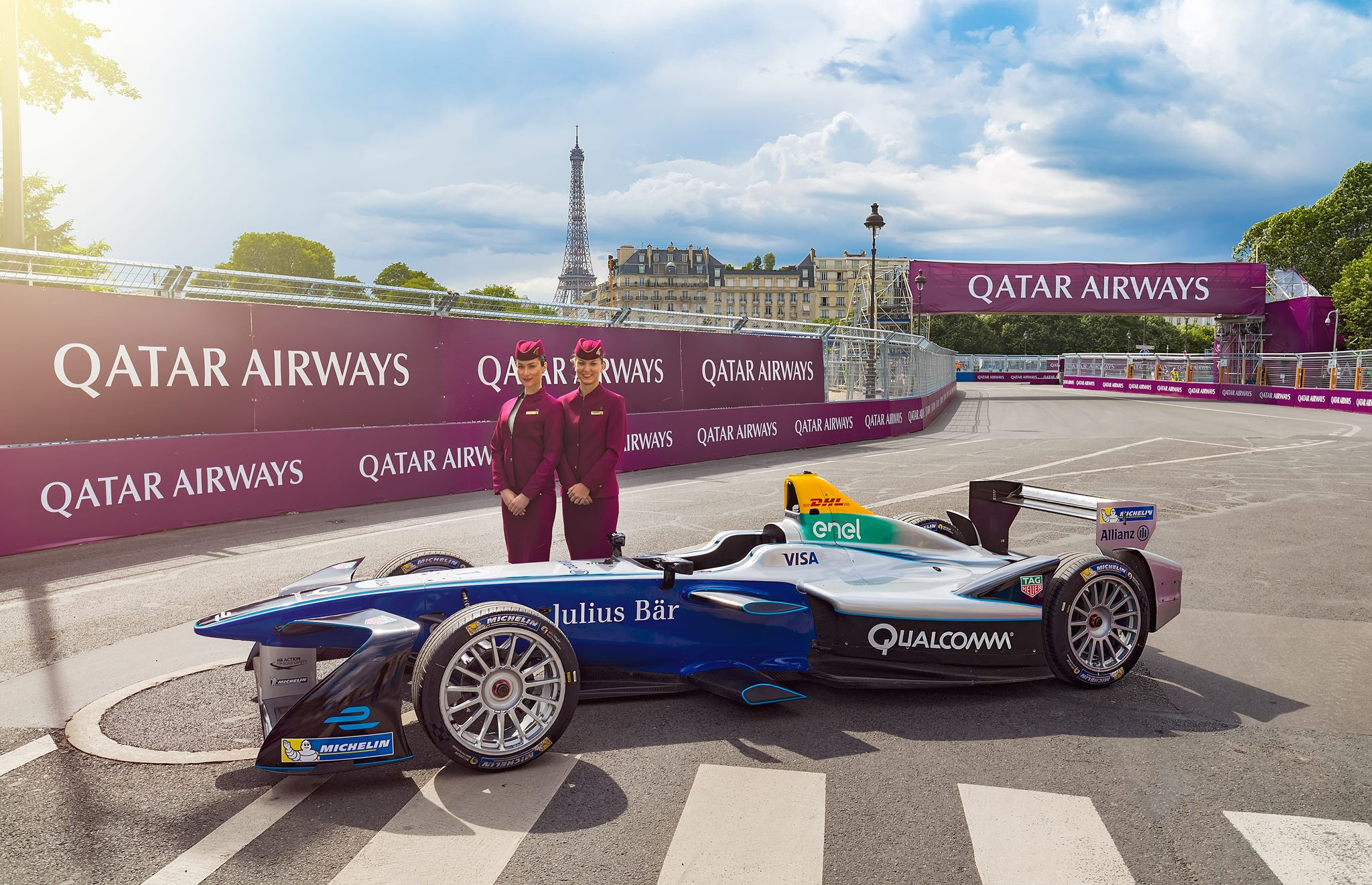 Formula E event took place on 20 May in Paris
Sébastien Buemi was presented with the winning trophy by Qatar Airways Group Chief Executive, His Excellency Mr. Akbar Al Baker
Qatar Airways, sponsor of the electric street racing series Formula E, is delighted to announce the winner of the 2017 Qatar Airways Paris ePrix, Mr. Sébastien Buemi.
The national carrier of the State of Qatar was the official airline partner and title sponsor of the highly-anticipated 2017 Qatar Airways Paris ePrix, which took place around the architectural complex of Les Invalides in the French capital on 20 May. Qatar Airways is also the official airline partner of the first-ever New York City ePrix, to be held in Red Hook, Brooklyn on 15-16 July 2017.
After presenting the trophy to the winner on Saturday evening, Qatar Airways Group Chief Executive His Excellency Mr. Akbar Al Baker said: "We are delighted to be the official sponsor of the Formula E electric car races in Paris and New York. Qatar Airways is committed to promoting sports as a key element in bringing people together. Formula E is innovative, bold and smart with its approach, concepts mirrored at Qatar Airways through our young and modern fleet, which is widely regarded as one of the most energy efficient in the sky."
"We look forward to the ePrix race in New York this summer, at which time we will also introduce our new Qsuite Business Class offering on our Paris route," he added.
The second edition of the race in Paris along L'Esplanade des Invalides offered racing drivers and visitors an exceptional day of exhilarating competition and impressive sporting skills. VIPs, honoured guests as well as French and international journalists enjoyed the competition and activities organised by Formula E and its partner, Qatar Airways.
The FIA Formula E Championship is the world's first fully-electric single-seater racing series, competing on the streets against the backdrop of some of the most iconic cities, including Hong Kong, Marrakech, Buenos Aires, Monaco, Paris, New York and Montreal. The championship represents a vision for the future of the motor industry, serving as a platform to showcase the latest innovations in electric vehicle technology and alternative energy solutions.
Qatar Airways, the official FIFA partner, is the official sponsor of many top-level sporting events, including the FIFA 2018 and 2022 World Cups, F.C. Barcelona, Al-Ahli F.C. in Saudi Arabia, as well as the Qatar Exxon Mobil Open and the Qatar Total Open.
Qatar Airways, widely recognised as a leader in innovation and technology in the aviation industry, recently unveiled its new business class seat 'Qsuite' at ITB Berlin. The airline has also introduced high-speed broadband that will offer the same connectivity speed on board as in the ground, in partnership with Inmarsat (GX Aviation).