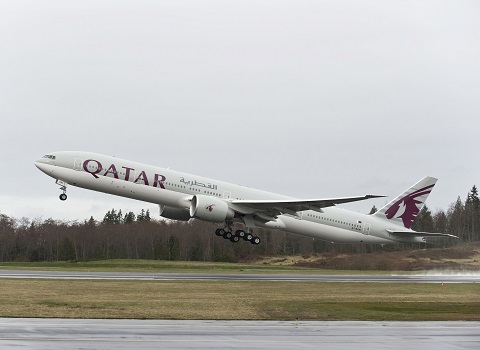 In response to increased demand, Qatar Airways will connect Berlin Tegel and Doha in September and October 2017 on a daily basis with the Boeing 777-300ER. With its "Triple 7", the national carrier from Qatar highlights Berlin's significance.
Qatar Airways' Boeing 777-300ER has 358 seats – 42 of which are in Business Class and 316 in Economy Class. When compared to the A330-300, this represents a 17% increase in capacity for Economy and a 40% gain in Business.
Frédéric Gossot, Country Manager for Germany, Austria and Switzerland is very satisfied with the way things are going:
Germany, and thereby Berlin, are an important market for us. Operations on this connection started 12 years ago. Since then, demand has constantly grown. We take pleasure in our passengers' trust and shall continue to provide the highest level of service and comfort.
Elmar Kleinert, Head of Operations of Flughafen Berlin Brandenburg GmbH:
Travellers have been able to fly non-stop between Berlin and Doha since 2005. We are pleased that this route has been received in a positive way and that Qatar Airways will descend upon Berlin in September and October of 2017 with the Boeing 777. In so doing, the model is the biggest aircraft to carry out operations at our airports.
Bangkok, Colombo, Male, Bali and Phuket are just some of the long-haul destinations that can be reached from Berlin through Doha. In addition, Qatar Airways is to introduce new destinations to Medan, Canberra, Chittagong and Mombasa in 2018.
Daily flight schedule for September & October 2017
Tuesday, Thursday, Saturday
Berlin (TXL) to Doha (DOH) QR082: departure – 17:55, arrival – 00:45 (+1)
Doha (DOH) to Berlin (TXL) QR081: departure 07:40, arrival 12:55
Monday, Wednesday, Friday, Sunday
Berlin (TXL) to Doha (DOH) QR078: departure 22:25, arrival 05:15 (+1)
Doha (DOH) to Berlin (TXL) QR077: departure 14:45, arrival 19:50
Flights can be booked at:
05.09.2017