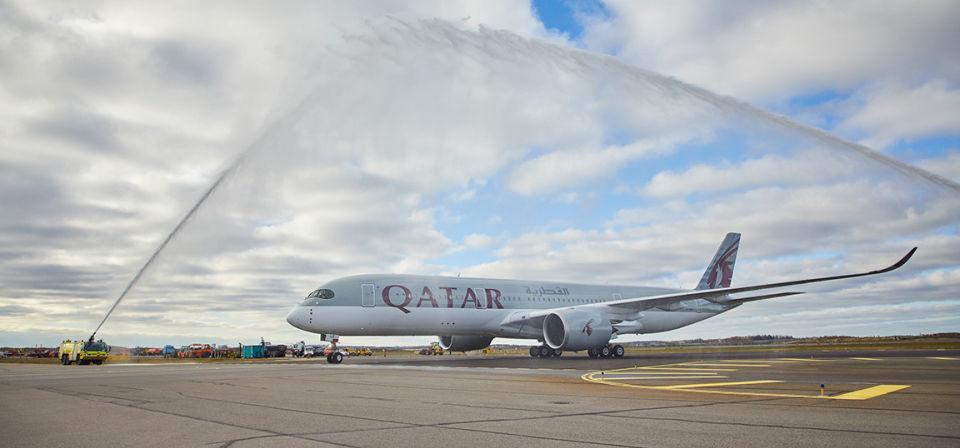 Qatar Airways has started direct flights between Helsinki and Doha on Monday, 10 October. The new daily route strengthens the role of Helsinki Airport as the best airport in Northern Europe and increases the range of international flight connections from Finland. Through new routes and its development programme, Finavia is, also this year, looking to break new passenger records.
The significance of Finavia's Helsinki Airport as the leading airport in Northern Europe strengthened on Monday, 10 October, when Qatar Airways started direct flights between Doha and Helsinki. Recognised as one of the best airlines in the world, Qatar Airways will operate the route daily and, through their transfer connections, Finland has access to more destinations in the southern hemisphere, including Africa, Australia and India.
"This is an important step to us as the leading transfer airport in the Nordic connects with a modern hub in the Middle East. We are happy to accept this new route and wish Qatar Airways warmly welcome to Finland," says Joni Sundelin, senior vice president at Finavia.
Qatar Airways opened the new route impressively with the wide-bodied A350 which, upon arrival at Helsinki Airport, received the traditional water salute from Finavia's fire engines.
"Launching our new route to Helsinki is a proud moment for the airline, completing our strategy of serving the needs of Europe's Nordic capitals and facilitating connections for businesses, cultures and families between Finns and people throughout the world. With this new service, the people of Helsinki have access to a convenient and world-class air service to more destinations, and we are looking forward to welcoming our new customers on board", says Qatar Airways Group Chief Executive Akbar Al Baker.
Established in 1997, Qatar Airways flies to more than 150 destinations on six continents.
A golden opportunity for Finnish tourism
Excellent news in terms of flight routes have been heard recently in Finland. In addition to the Doha route, new routes have been opened from Helsinki Airport to Europe, Asia and North America. When it comes to transfer connections, Helsinki Airport overshadows the airports of Stockholm, Copenhagen and Oslo.
"At Finavia, we are working hard for a comprehensive route selection, and this hard work has paid off. According to a recent survey, the significance of Helsinki Airport as a hub for international transit traffic is higher than that of any other Nordic airport. This means that Finland offers more routes to the world," Sundelin says.
In addition to Helsinki Airport, Lapland has attracted new routes to northern airports.
"Connections, such as the new route operated by Qatar Airways, carry more tourists to the Helsinki region. At the same time, Finland has a golden opportunity to utilise the increase in tourism brought along by Qatar Airways in other locations, such as Lapland, the appeal of which certainly reaches Doha and even more distant places," Sundelin says.
Finavia's development programme is preparing the airport to break new records
While Qatar Airways is starting flights to Finland, Finavia is running a major development programme to expand Helsinki Airport and increase its transit capacity.
This year, the number of passengers at Helsinki Airport is expected to reach a new record high. Last year, the airport reached a record of 16.4 million passengers. When the expansion of Helsinki Airport is completed in 2020, the airport is expected to have 20 million passengers per year.
Finavia's development programme was launched in 2013. Its objective is to strengthen the position of Helsinki Airport as a significant hub between Europe and Asia. Helsinki Airport's strengths include short transit times, friendly staff and innovative world-class services.