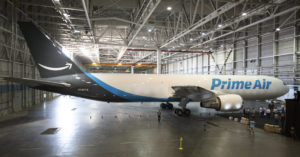 During a recent display at the annual Seafair Air Show in Seattle, online company Amazon has unveiled 'Amazon One', the very first aircraft wearing the full livery of 'Prime Air', Amazon's new delivery system designed to get packages to customers in 30 minutes or less using small unmanned aerial vehicles or drones.
The aircraft is a Boeing 767-300 converted into a full freighter jet and was nicknamed 'Amazon One'. It will be the eleventh aircraft operating for Amazon but it is the very first to be wearing a dedicated Amazon livery.
The aircraft performed a flying display at Seafair just before the US Navy flying display team, the Blue Angels. Those living in the Seattle area will be able to see Amazon One flying over Lake Washington between 13:15 and 13:40 local time Friday-Sunday.
The aircraft operates under the AOC of its partner Atlas Air. Amazon has plans to grow its fleet of full freighter aircraft to a total of 40 jets.
Here's a timelapse video of Amazon One being painted:

5 August 2016
Photo: copyright © Amazon