For the 4th annual herders' congress dozens of reindeer boarded this Polar Airlines Antonov An-26 for a flight towards Yakutsk, Siberia. The congress is a 4-day event between the 16th and the 19th of March. This weekend traditional sports games will be held, attracting many spectators.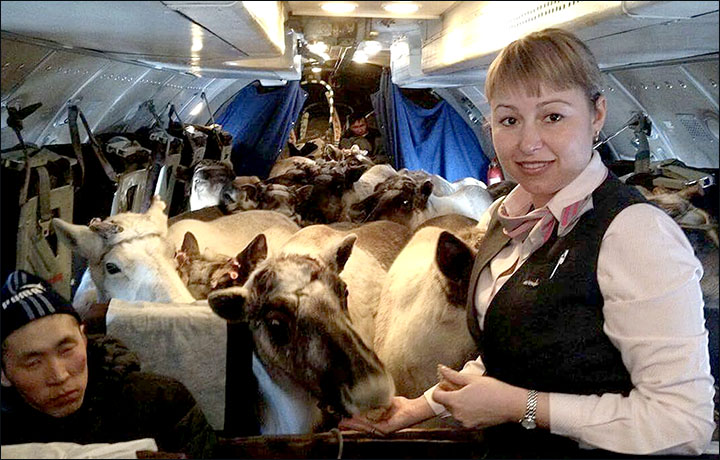 The flight was carried out by an An-26 aircraft with captain KVS AI Gritsenko, co-pilot EA Solovyev, navigator VL Zebrov, flight mechanic BA Fedorov, boarders PV Molotkov and А.V. Zimin.
The airline carried out five flights from Saskylaakh, Olenka, Sakkyryr, Ust-Kuygi and from Tiksi.
Alexander Zimin of Polar Airlines and responsable to control and perform the quality of transportation of animals explains: "the airline staff have a lot of experience in the transportation of cattle, so the animals have a safe flight. For their transportation, special pens are provided, which are installed in the cargo compartment of the aircraft, where each deer is tied, taking into account the size of the horns. With the most spreading horns, the deer are placed in the center of the pen. It also happens that the deer owners themselves cut them for convenient transportation of the animal." 
Photos by Evgeny Nikolaev, Olga Ushnitskaya