Oman Air, the national carrier of the Sultanate of Oman, has launched a new daily flight from Muscat to Manchester.
The inaugural WY105 flight departed Muscat at 14.00hrs on May 1 and arrived in Manchester at 19.05hrs, where guests were warmly greeted at a welcome ceremony by officials from Manchester Airport and the Lord Mayor of Manchester. The ceremony, which included a cake cutting, was attended by the CEO of Oman Air Paul Gregorowitsh and a host of Omani dignitaries. The following day guests were treated to a day of celebrations at The Lowry Hotel, including a press conference held by the CEO of Oman Air and lunch with the British travel trade and media.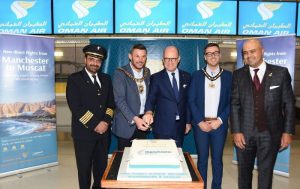 Manchester is one the UK's most dynamic cities; youthful, diverse and bursting with character. Manchester city centre is jam-packed with unique and eclectic restaurants, bars, shops, museums, galleries and hotels and is also home to an historic university. Guests had a chance to experience the best of the city before embarking on their return flight WY106, departing Manchester at 20.45hrs and arriving in Muscat at 07.20hrs.
The new daily service is operated by an Airbus 330-200 and is the airline's second flight connection to the UK following the current double daily service between London Heathrow and Muscat. The new flight signals the latest move in the airline's ambitious and dynamic programme of fleet and network expansion and boosts Oman's connection to the UK, an important trading partner.
Paul Gregorowitsch, Chief Executive Officer, Oman Air said: "The addition of this flight to and from Manchester is a pivotal development and demonstrates our commitment to the UK market. Oman Air is the only carrier operating direct flights to the Sultanate outside of London, offering British and Omani travellers the convenience of flying direct between the north of England and Muscat. There is of course also the opportunity to connect with Oman Air's global network, over 27 destinations have connectivity inside of three hours in both directions, and our extremely keen pricing means that Oman Air offers a really attractive option for travellers to Manchester or those visiting Oman."
4 May 2017
Photo: copyright © Oman Air