With a better than expected performance, LuxairGroup ended the year 2014 with an increase of its net profit, a confirmation of the effectiveness of its growth strategy
After returning to a net profit in 2013, LuxairGroup confirmed the improvement of its results in 2014, finishing the year with positive operating and net income. This performance is all the more remarkable as the general economic environment remained sluggish and the company also faced tough competition in all markets.
"LuxairGroup closed the year 2014 with more than respectable results. Given the unfavorable context in which the company has evolved throughout the year, this is an unexpected success which augurs well for its future ", Paul Helminger, Chairman of the Board, commented.
Adrien Ney, CEO of LuxairGroup, was satisfied with the performance in 2014: "Over the last two years, LuxairGroup has demonstrated its ability to innovate and thus managed to cope with competition. The year 2014 was marked by the crossing, for the first time, of the one-million-passenger-threshold by Luxair Luxembourg Airline and by a 30% reduction of the loss of our airline business. On our other markets, we have also performed well, a reflection of our investments in particular in our fleet and the infrastructure for our cargo handling activity".
Operating profit
Luxair Luxembourg Airlines has ended the year with an operating loss of 8.4 million euros, which is a notable improvement over the operating loss of 12 million euros recorded in 2013. LuxairTours also improved its operational result, at 10.1 million euros against 9.4 million euros in 2013. LuxairCARGO's operating result, which confirmed its return to profitability, remained stable at 1.7 million euros. The passenger assistance and catering activities ended the year with decreased operating results compared to the previous year, at 0.4 million euros against 1 million euros in the previous year for the first and 1 million euros against 1.4 million euros for the second. Positive at 5.1 million euros for all divisions LuxairGroup, the operating profit stood at 1.3 million euros after taking into account the contributions of LuxairGroup's shareholdings.
Net income up
After taking into account financial results, extraordinary results which mainly reflect the sale of part of the shares held by LuxairGroup in Cargolux, and taxes, LuxairGroup records for the year 2014 a net profit of 9.7 million euros, against 1.9 million euros for 2013.
Luxair Luxembourg Airlines on track
With 1.09 million passengers in 2014, Luxair Luxembourg Airlines recorded a 19% growth in the number of passengers, confirming the success of its strategy formulated two years ago. This strategy, which is based on a gradual and controlled increase of capacity associated with an increase in the proportion of tickets offered at entry price (Primo fares family, with return trips from 99 euros), allows Luxair maintain its service quality advantage and price transparency over its competitors, while at the same time attracting new leisure customers.
The revenue of Luxair Luxembourg Airlines has increased by 15% over the previous year. The business benefited from reduced fuel costs during the second half of the year and from controlled labor costs, while competition on several routes served by Luxair rose. The year was marked by the successful launch of three new routes (Lisbon, Dublin, Stockholm).
Good performance for LuxairTours
The tour operator LuxairTours recorded a virtually stable total number of passengers in 2014 compared to 2013, with 539,000 tourists, while operating profit improved to 10.1 million euros against 9.4 million euros the previous year, and revenue increased by 1% compared to the previous year. This performance reflects the success of its strategy based on the diversification of its destinations and on increasing its fleet of reliable Boeing 737-800 aircraft, which offer a level of comfort much appreciated by the passengers and remarkably low cost per passenger seat. The year was also marked by an early recovery of the destinations that had suffered from the Arab Spring, a recovery which is again challenged this year following the terrorist attacks at the beginning of 2015 in Paris and Tunis.
However, the activity starts fiscal year 2015 under good omens thanks to the 6% increase of its seating capacity reflecting the arrival of a new Boeing 737-800, which allows LuxairTours to offer more capacity on politically stable destinations like Majorca and Corfu, a new destination (Olbia, Sardinia), thanks also to the increase of the offer popular Luxiclub activities for children, now offered at 13 hotels.
Good fiscal year for LuxairCARGO
2014 has been a year during which LuxairCARGO was able to confirm its return to profitability, with a 5% increase of the tons processed, at 723,000 tonnes, and a stable operating profit at € 1.7 million. LuxairCARGO has benefited from the economic recovery and taken advantage of the good level of activity of its main customer, Cargolux. The activity nevertheless remains fragile, first because of the timidity of the economic recovery and next due to its high exposure to competition resulting from its salary structure. In order to strengthen its operational capabilities, LuxairCARGO continued in 2014 and early 2015 to invest in its infrastructure, with the arrival in particular of new high-loaders which allow it to now simultaneously handle six Boeing 747.
In parallel, LuxairCARGO deepened its expertise and its offer in terms of niche activities, especially for pharmaceuticals and health goods as well as for the transportation of animals.
Fleet renewal strategy
The good results in 2014 served as the basis for the decision taken by LuxairGroup's Board of Directors in February 2015 to approve an ambitious fleet renewal strategy, which is meant to enable it to continue its growth over the next decade. This strategy is structured in two phases: the acquisition by 2016 of three new Bombardier Q400 twin turbo-reactors, the first two of which will be delivered by the end of the year, and the evaluation, between 2018 and 2020, of a new new generation of midsize jets with reduced passenger-seat costs which will allow Luxair to continue its development. This strategy reflects the need for Luxair to continue its growth through a gradual increase of its capacity, while remaining profitable through controlled unit costs.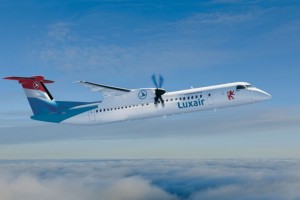 Luxembourg, 19 May 2015