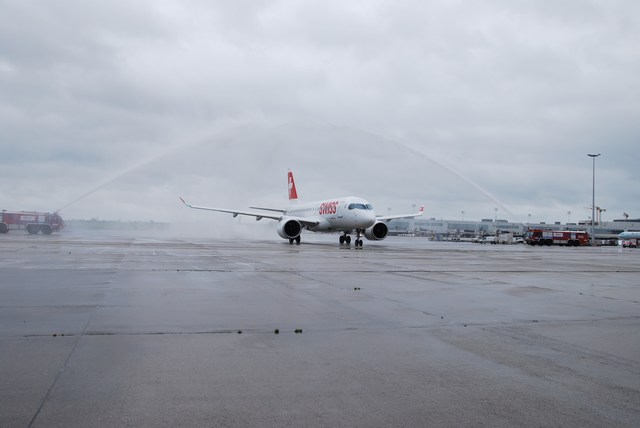 Yesterday, the "whisperjet" added Brussels to its destination portfolio and was celebrated at Brussels Airport. The new Bombardier C Series will gradually replace the present Avro RJ100s on SWISS's short- and medium-haul routes. Swiss International Air Lines (SWISS) became the first airline in the world to operate the new Bombardier C Series with its first commercial flight from Zürich to Paris Charles de Gaulle last month.
The new Bombardier CS100, with flight number LX 786 coming from Zurich, arrived in Brussels yesterday morning at 08:55h. The new short- and medium-haul aircraft has also been dubbed the "whisperjet" for its low noise emissions.
Gate ceremony
The first Bombardier C Series flight arriving in Belgium was duly celebrated at the gate before its departure back to Zurich. SWISS Country Manager Mr. Michael Gloor stated that both the airline and the airport benefit the economics and  environmental credentials of the Bombardier CS100. "Compared to comparable aircraft types it is 10-15 decibels quieter and the fuel consumption and its carbon dioxide emissions have been reduced up to 25%", he added.
Mr Gloor's speech was followed by the traditional ribbon-cutting ceremony, which was performed together with Mr Piet Demunter, Director Strategic Development of Brussels Airport. After the official part of the ceremony the passengers could enjoy a festive breakfast before boarding flight LX787. The CS100 jet was departing with the traditional water salute.
Gradual replacement of the Avro RJ100 fleet by July 2017
SWISS has ordered 30 Bombardier C Series aircraft in all – 15 CS100s and 15 of the bigger CS300. The new aircraft will primarily replace the present SWISS Avro RJ100s between now and mid-2017. Paris Charles de Gaulle, Manchester, Prague, Budapest, Warsaw and Brussels are among the first SWISS destinations to receive Bombardier CS100 service. Further European cities currently served with Avro RJ100 equipment will switch to C Series operation with each successive delivery.
In SWISS configuration the Bombardier CS100 will seat 125 passengers. With its advanced engine technology, systems and construction materials the new twinjet sets new benchmarks in comfort, economic and ecological terms.
The cabin interior features large and closely-spaced windows that let in more daylight and give the cabin a very spacious feel. The innovative seat from manufacturer ZIM boasts a special design that includes a single central table support, providing optimum comfort and more legroom with the same seat pitch. The overhead bins offer ample room for passengers' carry-on baggage. And the state-of-the-art cockpit and the ergonomically conceived galley, which were both developed in close collaboration between Bombardier and SWISS, have been specifically designed to meet crew wishes and needs.
Brussels Airport, 22 August 2016