From June 2015, the globally unique "flying intensive care unit" will be available on all planes in the entire Lufthansa long-haul fleet. The Patient Transport Compartment (PTC) was developed by the technology company Lufthansa Technik in cooperation with Lufthansa's Medical Service. Lufthansa can now offer its PTC in its entire network of long-haul flights leaving from its hubs in the German cities of Frankfurt and Munich. The company has already been using the PTC on its Boeing 747-400 and Airbus A340 and A330 aircraft types since 1999. A total of up to 100 intensive care patients are transported in the PTC by Lufthansa every year. A further developed version of the PTC has now been designed for the Airbus A380 and Boeing 747-8 sub-fleets and installed in the modern long-haul jets.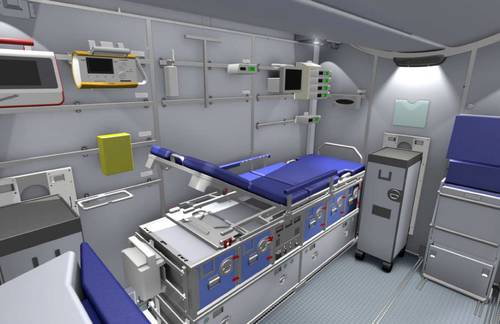 The PTC boasts a multitude of advantages compared to a conventional air ambulance, for example a time saving of up to 50 percent due to the fact that it is installed in an airliner and lower costs. The spacious interior of the PTC offers enough space for a patient bed, two seats for the doctor treating the patient and a Lufthansa crew member (PTC Medical Crew Member) and intensive care equipment together with the required material and medication.
With its wide range of medical products, Lufthansa is the world's leading airline. Patients who do not require intensive care with a PTC can book medical services such as the so-called "stretcher" or, where necessary, a separate oxygen supply for their flight in advance. The services available from the Medical Operation Centre (MOC) not only include matters concerning suitability for flight transport, but also the preparation and provision of medical offers. Lufthansa also runs the "Doctor on Board" programme, which has already been joined by more than 9000 doctors all over the world. At all of its destinations, Lufthansa is able to put passengers in contact with contracted doctors for a fee in the case that they fall ill or require medical assistance. For more information, please visit http://www.lufthansa.com/de/en/Travelling-healthily.