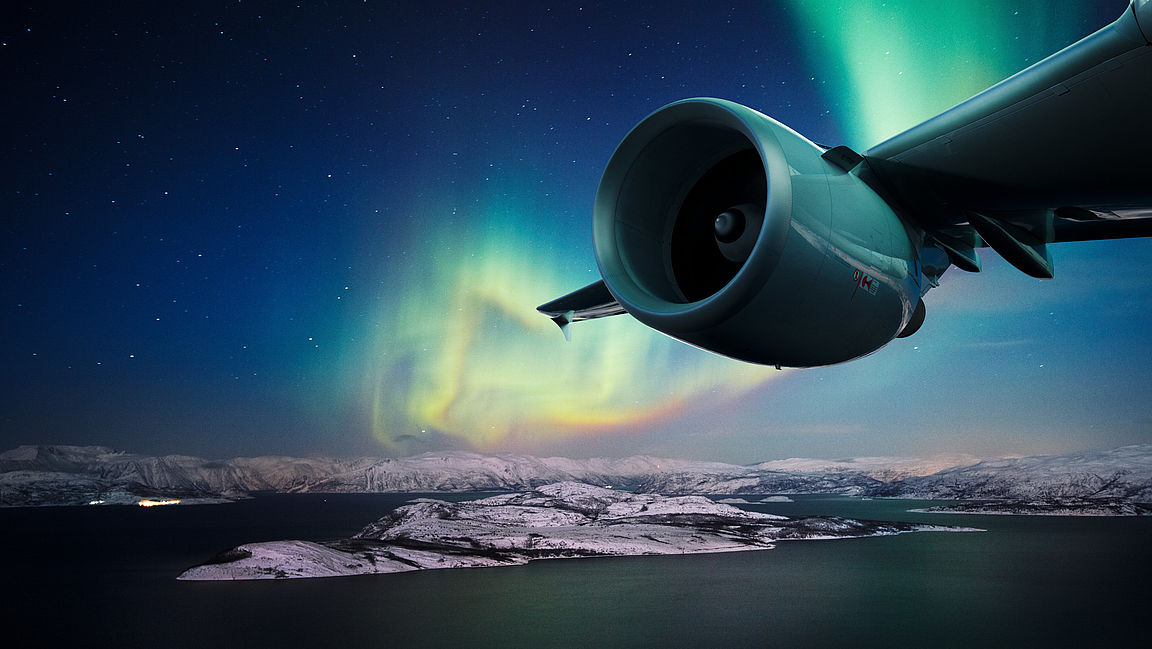 As of today, Lufthansa offers a flight to Tromsø (Norway), the northernmost destination that Lufthansa has ever flown to. Flight LH870 took off in Frankfurt at 9:35 a.m. and turned north. The flight plan included a landing at Tromsø-Langnes Airport this afternoon at 1 p.m. local time, with the return flight, LH871, set to take off from Tromsø at 2 p.m. local time and arriving in Frankfurt at 17:25. Lufthansa will be offering this connection once a week. With a duration of approximately 3 hours and 25 minutes, the flight is one of the longest in Lufthansa's European network.
Tromsø is 350 km to the north of the Arctic Circle. From an aquarium and a number of museums to the world's northernmost botanical garden, you will find sights here that you can't see every day. Tromsø is also the perfect place for taking in the spectacular natural wonder of the legendary Aurora Borealis. Outdoor enthusiasts come to Tromsø because it is just a stone's throw from unspoiled nature, offering travellers a wide range of activities including fishing, whale watching and dog-sledding. The new Lufthansa destination in the Lapland region will be served until 25 March 2017 by a 138-seat Airbus A319 with two booking classes.
Another destination in Scandinavia is also new this winter: in addition to Tromsø, Lufthansa is also flying from Frankfurt to Ivalo in Finland once a week. With these two new destinations and the existing route to Kittilä (Finland) that is offered twice weekly from Munich, Lufthansa's winter flight schedule now has three attractive tourist destinations in the far north of Europe that are extremely popular at the moment.
A round-trip flight from Frankfurt to Tromsø can be purchased for as little as EUR 179. Further information and booking facilities are available online at LH.com or at any Lufthansa Service Center (phone +49 (0)69 86 799 799; fixed-line rates apply). Flights can also be booked through Lufthansa's travel agency partners or at any Lufthansa airport sales desk.
 The new connections at a glance
Frankfurt – Tromsø
Airport/

3 Letter Code/

Time zone

Frankfurt, Terminal 1 (FRA); CET (GMT/UTC +01:00 hrs.)

Tromsø-Langnes (TOS); CET (GMT/UTC +01:00 hrs.)

Flight schedule

(all times in local time)

FRA – TOS once a week (Saturdays, 26.11.16 – 25.03.17)

LH870: FRA 9:35h – 13:00h TOS

LH871: TOS 14:00h – 17:25h FRA

Flight duration

(on average)

3 hours 25 minutes
Destination
2.253 km (1.216 nautical miles)
Aircraft type
Airbus A319
Deutsche Lufthansa AG, Media Relations Lufthansa Group, 26.11.2016 Press Release