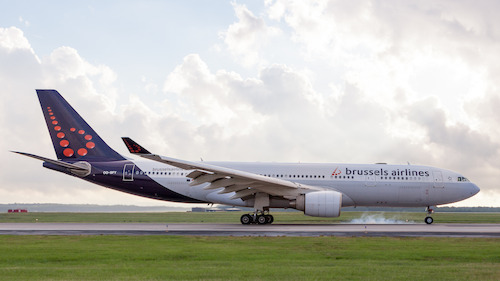 Lufthansa, which owns 45% of the shares of Brussels Airlines, will decide on 27 April whether to take over the remaining 55%, writes German newspaper Süddeutsche Zeitung this morning (13 April).
According to the newspaper (a most respected one in Germany), Lufthansa is likely to go ahead. It has an option to buy the shares, but never used that right. However, it appears now that Lufthansa is convinced that the time has come to take Brussels Airlines under full control.
If Lufthansa goes ahead with the acquisition, Brussels Airlines could be split into two before the end of the year: the European point-to-point flights would be integrated into the regional platform of the low-cost unit Eurowings, while the long-haul flights and their feeder flights would remain active under a name that has still to be selected. A hint? Lufthansa last year protected the domain names BrusselsWings.be and BrusselsWings.com. But some say that the word "Brussels" might completely disappear because of the negative connotation after the Brussels attacks.
Officially, according to the agreement with SN Airholding (owner of 55% of Brussels Airlines), Lufthansa must give an answer during the second quarter of 2016.
As a reminder, Carsten Spohr, CEO of Lufthansa, had a private meeting with King Philip of Belgium at the Royal Palace in Brussels two days ago.
SAS also a target
Simultaneously, Lufthansa is also discussing with SAS and could take a share in the airline which is majority-owned by the Governments of Sweden, Denmark and Norway.
Follow the forum discussion here: http://www.luchtzak.be/forums/viewtopic.php?f=7&t=58380