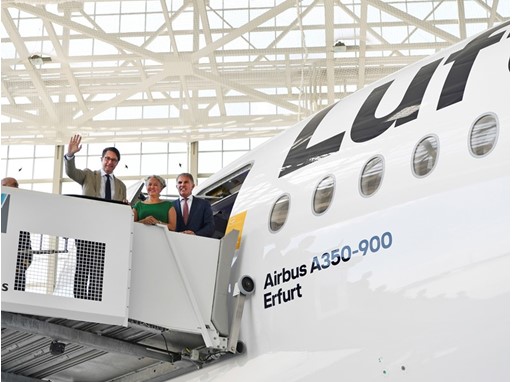 Recent events in Munich have shown how vulnerable the system is
In a side note to the talk, Scheuer and Spohr christened a Lufthansa A350
The Lufthansa fleet's tenth A350-900 has been christened on the occasion of the visit of Andreas Scheuer, Germany's Federal Minister of Transport and Digital Infrastructure, to Deutsche Lufthansa in Munich. Andreas Scheuer signed the naming certificate of the A350-900 together with Deutsche Lufthansa AG CEO Carsten Spohr and Kathrin Hoyer, Erfurt's Head of Cultural Affairs. The aircraft with the registration D-AIXJ now also bears the name of the city of Erfurt. The A350-900 is the world's most modern and environmentally friendly long-haul passenger aircraft.
The talk between Federal Minister of Transport Andreas Scheuer and Carsten Spohr focused on the current challenges in the aviation industry. The events at Munich airport over the past weekend in particular highlight how vulnerable the system is and how sensitively it reacts in response to disruptions. Everyone involved is aware of the issues and there is an urgent need for action, even if it is often difficult to find quick fixes. Scheuer and Spohr agreed that the current irregularities in Europe cannot become a permanent state.
Scheuer and Spohr stated that the growth of air traffic reaches limitations with an increasing frequency and that the proportionate adjustment of capacities at increasingly overburdened airports has to be discussed. They added that the infrastructure is increasingly strained and that delays or cancellations of aircraft deliveries add to these difficulties. Overall, they see the need for appropriate solutions.
"We need a strong location for aviation in Germany and companies that are optimally positioned internationally, with highly attractive offers for travellers," said Federal Minister of Transport Andreas Scheuer. "Customers nowadays quite rightly expect a modern and environmentally friendly fleet. The German federal government creates good conditions for airlines and airports so that the aviation industry can continue to grow. However, because the infrastructure faces increasing challenges, we have to sit down with everyone involved to develop a package of measures and discuss possible solutions."
In order to address the current challenges, it is now the responsibility of all participants in aviation to optimize the processes, as Scheuer and Spohr put it.
"Europe's air traffic sector is growing rapidly. Many airports are already overburdened today and we are also struggling with limited capacities in the sky. Sadly, our customers feel this most of all," said Carsten Spohr, CEO of Deutsche Lufthansa AG. "Our common goal going forward has to be an increase in high-quality growth that doesn't overburden existing infrastructure. Politics and industry have to cooperate to create the necessary conditions that will allow us to continue to meet our commitment to quality in the future."