• From 1 July, Lufthansa will fly nonstop from Frankfurt to San José
• Passengers test digital innovations on board the LH488
• Live conference on digital trends of Lufthansa, Instagram, Mercedes Benz and Visit San José
• Passengers experience the new destination with Lufthansa at different events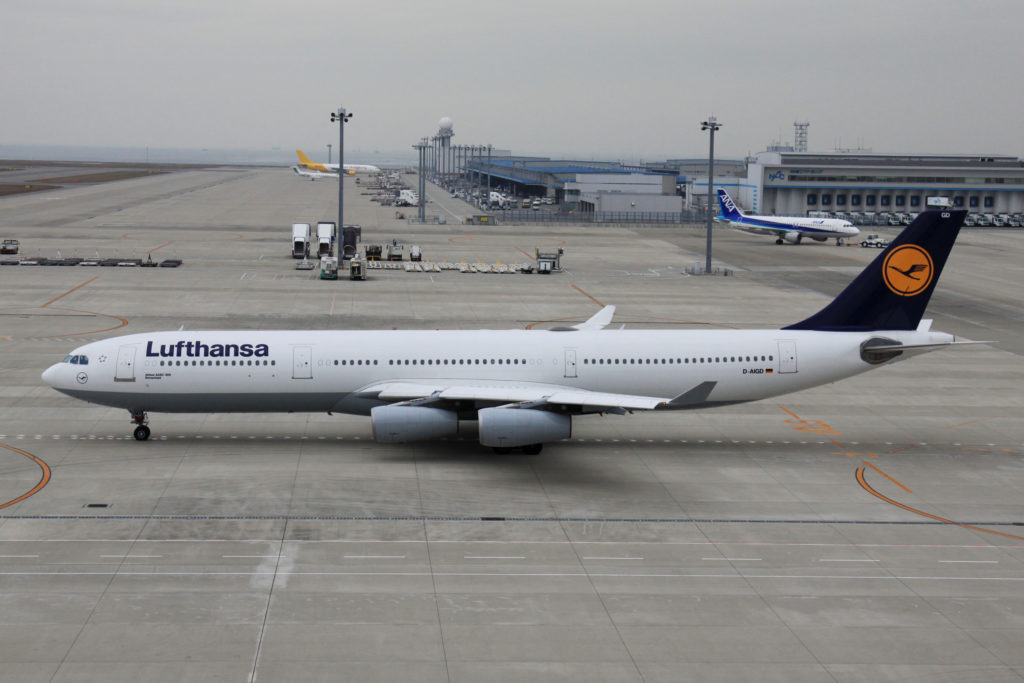 From 1 July, Lufthansa will be offering a new direct flight to California. The Airbus A340-300 with flight number LH488 took off at 10:53 local time from Frankfurt towards the west. San José is located in the heart of Silicon Valley, famous worldwide for start-ups and high-tech industry; numerous major car manufacturers operate their research laboratories here.
Lufthansa is also installing a so-called FlyingLab on this flight for the first time, in which passengers can test new ideas surrounding products and services. The motto of the outbound flight is Virtual Reality, an area in which Lufthansa is the airline industry leader with its 360-degree content. On the flight to California, travellers can try out the latest digital equipment by partner Samsung, such as the virtual reality goggles Samsung Gear VR or the tablet Samsung Galaxy Tab S2. Thus, passengers can dive into 360-degree videos during the twelve-hour flight and experience powerful image content. On the return flight, with the motto "Wellbeing on night flights", guests can test the Neuroon, among other things: this sleep mask with artificial intelligence is designed to help the wearer change to a different sleep pattern – interesting for frequent flyers with jetlag, for example. All booked passengers were able to register to test the products free-of-charge at lh.com/flyinglab.
Independent of the destination, Lufthansa will retain the concept of the FlyingLab and will make the latest internal as well as external developments available to its customers, and is collecting feedback – on digital innovations and services to product components. Customers will thus be able to familiarize themselves with the latest technologies and products, and to test them live.
"The aim of the FlyingLab is to try out new things quickly and easily," says Dr Reinhold Huber, Vice President Passenger Experience Design & Ancillaries, Deutsche Lufthansa AG. "If we find an exciting product, we can thus discover quickly if it appeals to the target group. Lengthy tests can be counterproductive."
Speed is of particular importance in a digital world. "In the first FlyingLab, we are evaluating a live conference," says Dr Torsten Wingenter, Head of Digital Innovations. "We are making use of the same disruptive thinking that start-ups use: to quickly test a prototype and then to decide promptly whether to introduce the idea or to discard it." Lufthansa will broadcast four talks on board to the devices of the travellers through live streaming. The speakers will present topics on digital trends:
Lufthansa, Dr Torsten Wingenter: "The Future of Travel: From Virtual Reality to the Flying Lab"
Mercedes Benz, Natanael Sijanta: "Digital Experiences at Mercedes Benz"
Instagram, Heiko Hebig: "Innovation on Instagram – A Growing Community from Zero to 500 Million"
Visit San José, Kyle Schatzel: "San José – The Gateway to Silicon Valley and Monterey Bay"
Every guest can follow these contributions via their own smartphone, laptop or tablet. To do so, passengers connect via an on-board network, which broadcasts the talks. Lufthansa Systems has developed a flexible solution for this on the basis of their experience with BoardConnect in cooperation with Lufthansa Technik and Media Event Services, whereby the image and the presentation of the speakers is transmitted on a split screen: guests can use Wi-Fi to connect to the transmission via wireless access points (hotspots). Dr Torsten Wingenter: "We were able to implement the prototype for a live stream of an inflight conference to the guests' end devices within a very short space of time. Such a system might also be viable on short-haul flights, in particular for internet streaming, for everyone who can't be on the flight themselves. We will make a decision on whether to pursue this idea during the course of the year, on the basis of our experiences with the first FlyingLab and the status of currently available technology."
But passengers will not only fall under the spell of Silicon Valley during the flight. For the first time, guests are invited to a total of five events organized by Lufthansa itself. Be it the Tech Museum in San José, whale watching in Monterey, or a 4th of July barbecue – with unforgettable events, Lufthansa will celebrate its latest destination together with its guests.
During their stay in California, passengers will also be able to test a very special service. With the travel concierge service "Mission Control", a product of the Lufthansa Innovation Hub, guests can receive interesting tips and recommendations all about San José. They will be offered support for flight re-bookings or directions to their event – easily via Facebook Messenger.
A return flight to San José can be booked from EUR 799. Lufthansa is offering this connection throughout the year five times a week, and guests can choose between Business, Premium Economy and Economy Class.
The new connection at a glance
Frankfurt – San José (California, USA) 
Airports/

Three letter code/

Time zone (summer)

– Frankfurt Airport, Terminal 1 (FRA); GMT +02:00 hours.

– Norman Y. Mineta San José International Airport (SJC);

GMT -07:00 hours.

Flight plan

(all times are given are local times; daylight savings time)

NEW from 1 July 2016

Monday, Wednesday, Friday, Saturday and Sunday

LH 488        Frankfurt 10:40  – San José 13:40

LH 489        San José 15:30  – Frankfurt 11:50  (next day)

Flight duration
(on average)
12 hours
Aircraft type
Airbus A340-300
Further links:
Virtual Reality content by Lufthansa:
360-Grad-Foto aus der Technik-Halle
EM-Video: Eine Fußball-Sommer-Story in 360 Grad
Deutsche Lufthansa AG, Media Relations Lufthansa Group 01.07.16