25 aircraft for Frankfurt and Munich / Quieter, more fuel efficient and lower CO2 emissions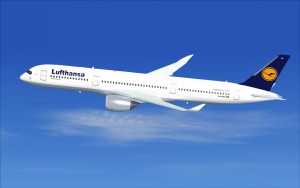 The first Airbus A350-900s of Lufthansa will be coming to Munich at the end of 2016. Lufthansa has ordered a total of 25 aircraft of this type, which in future will be used on routes from the airline's Frankfurt and Munich hubs. "The A350 marks our entry into the two-liter class and is an important step towards active noise protection. The aircraft generates a 30 percent smaller noise footprint," says Thomas Klühr, member of the Lufthansa German Airlines Board, Finances & Hub Munich. This summer Lufthansa will operate a total of 26 long-range aircraft, including 17 A340-600s and nine A330-300s, from its Munich hub.
The Airbus A350-900 is more fuel efficient than any other aircraft type. On average the new aircraft will consume a mere 2.9 liters of kerosene per passenger per 100 kilometers, roughly 25 percent less than current-generation aircraft. The state-of-the-art Rolls Royce Trent XWB engines and an aerodynamic design will also reduce noise emissions to well below current prescribed limits.
In addition, the cabin is extremely quiet, thanks to new insulation methods and sound- absorbing materials.  Passengers on board the A350-900 will also benefit from wider panorama windows and more spacious overhead stowage bins.
Technical data
| Engine | RR Trent XWB-84 |
| --- | --- |
| Length | 65.26m |
| Wing span | 64.75m |
| Height | 17.05m |
| Wing area | 443m2 |
| Max. takeoff weight | 268 tonnes |
| Engine performance | 2 x 84,000 lbs |
| Max. fuel capacity | 138,000 liters |
| Cruising speed | Mach 0.85 |
| Range* | approx.  9,500 km |
| Fuel consumption | approx. 2.9 liters /100 pax km |
| vs. B747-400 | -26% |
| vs. A340-300 | -24% |
* with maximum payload
Deutsche Lufthansa AG, Media Relations Southern Germany, 07.05.15