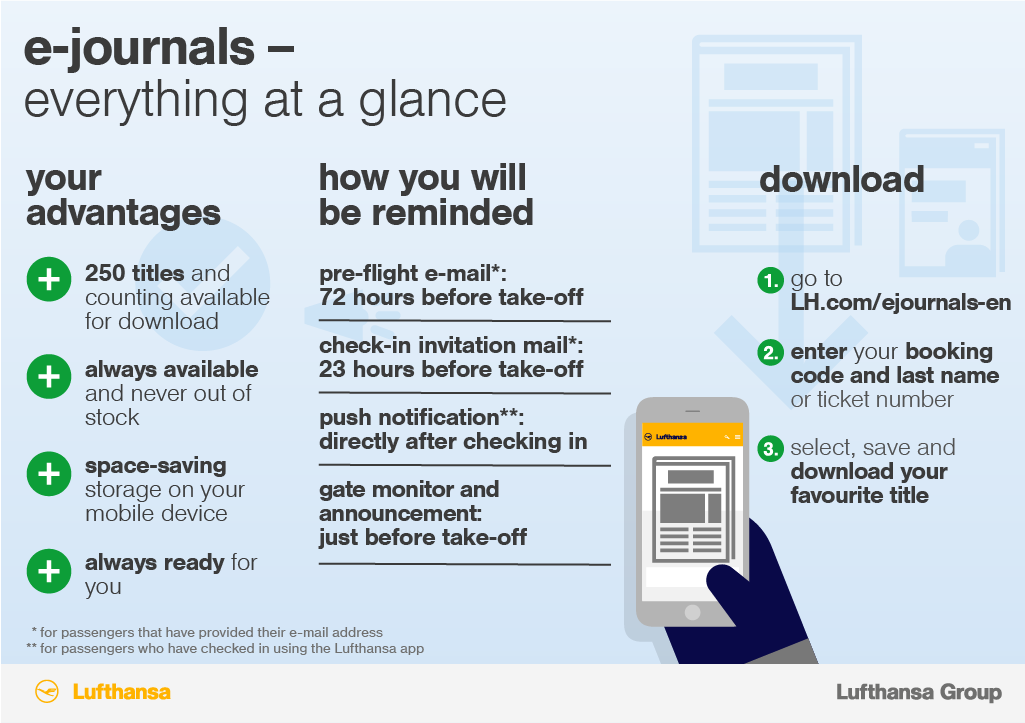 A huge selection of magazines and newspapers, available at any time and never out of print – Lufthansa is switching over to e-journals for its reading selection for passengers. Whether it's sport, news or cars, or perhaps travel, celebrity gossip, music or food – the range of themes covered by the magazines and newspapers on offer is wide. Currently there are more than 250 digital titles available, including quite a number for children, and with a choice of 18 different languages, and they can be accessed by Lufthansa passengers up to three days before their date of travel. There are plans to extend the selection even further in the future.
Downloading the digital reading material works very simply – by going to lh.com/eJournals via the Lufthansa app, and entering their name, plus either their booking code or ticket number, passengers can select their favorite titles, download them and then save them on their own electronic device. The reading material chosen is then available to them as a PDF file, even after the flight for an unlimited period.
Depending on which booking class the passengers are in, anything between one and twenty digital magazines/newspapers can be selected per flight, in a period starting from up to three days before the flight and running up until to the end of the journey. If they wish, they can also download further digital newspapers or newspapers on top of this for a fee.
By switching over to digital reading material, Lufthansa is not only able to provide a better service to its passengers through the considerably wider spectrum of magazines and newspapers – in far more genres and languages – which it can offer. A contribution is also made towards protecting the environment; the e-journals are more sustainable, as no paper or printing ink needs to be used and there is no requirement for logistics services for their distribution. The reduction of printed reading materials at the same time means less weight on board and so also helps to reduce kerosene consumption.
In the Lufthansa lounges and in the First Class sections on long haul flights, the usual printed reading material will still be provided. There will also continue to be printed versions of the magazines in the Business Class section on intercontinental flights. In addition, at Lufthansa's Frankfurt and Munich hubs, as well as at Berlin, Stuttgart, Hamburg and Düsseldorf airports, newspapers will be offered to all Lufthansa passengers from one of several central distribution points..
Deutsche Lufthansa AG Media Relations, 27.12.2016 Press Release