Long-haul flights at great introductory prices from EUR 99.99

"BEST, SMART, BASIC" fares and personal in-flight entertainment on all Eurowings long-haul flights

First destinations in the Caribbean, Middle East and Thailand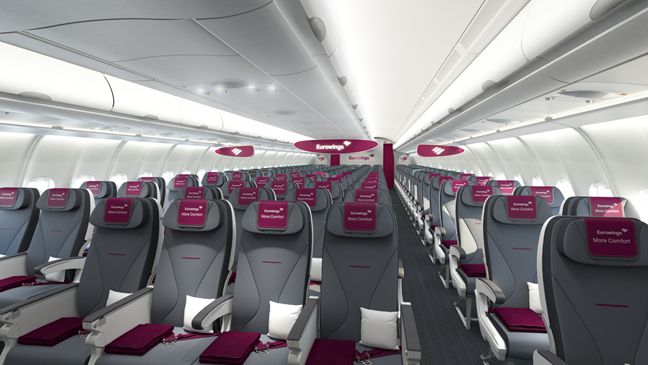 With the official sales launch at the International Tourism Exchange (ITB) in Berlin, short and long-haul routes can now be booked with new Eurowings to fly from 25 October 2015 onwards. Eurowings intercontinental flights depart from Cologne/Bonn Airport. The cheapest tickets on the long-haul routes are already on offer from EUR 99.99 per route. The first flights will take off to the Caribbean, Dubai and Thailand.
The new Eurowings is building on the successful Germanwings concept, which is positioned as an innovative quality low-cost airline and "low-cost" brand in Germany and Europe. Based on this, the product portfolio is to expand this successful concept in the segment of point-to-point connections on continental and intercontinental routes. Under the umbrella of the Eurowings sales brand, the range of European and domestic routes will be expanded with intercontinental city and holiday destinations. From the winter flight plan 2015/16 onwards, the new route network will include Dubai, the Thai cities of Bangkok and Phuket, as well as the Caribbean destinations of Varadero and Punta Cana.
The new Eurowings intercontinental connections will be flown by long-haul route aircraft of type Airbus A330-200. From the coming winter season onwards, the fleet will initially consist of two aircraft and will be expanded to a total of seven Airbus A330s. SunExpress Deutschland, a joint venture of Lufthansa and Turkish Airlines, will operate the long-haul route aircraft on behalf of the new Eurowings with its own cockpit and cabin personnel. Vienna has now been chosen as the first definite location outside of Germany as a new Eurowings base. Initially – also from winter 2015/2016 – two Airbus A320s will be put into operation on European routes in the first step of the expansion.
"Our new Eurowings strategy is to strengthen our position in point-to-point traffic," says Karl Ulrich Garnadt, CEO of Lufthansa German Airlines and member of the Executive Board of Lufthansa AG. "The new Eurowings will tackle on long-haul routes with a new brand launch, affordable ticket prices and an attractive route network. Our customers rightly expect a high standard of quality from us. With Germanwings, we have demonstrated that we can successfully connect low prices with good quality. We will continue to fulfil this aim in the expanded route network of the new Eurowings as well," Garnadt continued.
The fares will correspond to Germanwings' popular "fly à la carte" principle, which was successfully introduced in 2013. The fares BEST, SMART and BASIC, which have been extremely popular with passengers, will also be used by the new Eurowings. The fare classes include various levels of services and service packages. The BEST fare is offered to the most demanding private customers who value comfort and exclusiveness. This offer includes comfortable seating in an extra-wide seat with lots of leg-room in the exclusive forward cabin area. The BEST fare also includes two free items of luggage each of up to 23 kg, à la carte menus on board, priority check-in, lounge access and the chance to collect miles (including HON Circle miles). The cheaper SMART fare includes extra services such as one piece of luggage of up to 23 kg, two meals and soft drinks on board, as well as the chance to collect miles. The BASIC fare offers a straightforward travel experience at a reasonable price, to which further services can be added on an individual basis. The Cologne/Bonn – Dubai route for example is offered as a one way ticket at prices from EUR 99.99 (BASIC), EUR 149.99 (SMART) and EUR 399.99 (BEST). All flights can be bought from today at www.germanwings.com. The BEST and SMART fares can also be booked through travel agents. Booking will be available through www.eurowings.com from October.
On long-haul routes, the new Eurowings offers three attractive options. The exclusive BEST area comprises the first three seating rows and offers the latest ZIM seats. These seats correspond to the new Lufthansa premium economy class model, which offers seat pitch of 115 cm, has a backrest that can be adjusted by up to 20 cm, allows a 130° angle, and offers every guest their own armrest as well as comfortable leg and foot rests. Economy tickets can be booked with both SMART and BASIC fares. The "More Comfort" option, which can be booked as an add-on, offers seats with greater seat pitch along with a blanket and a pillow. State-of-the-art in-flight entertainment is offered on all intercontinental flights across all fares, which can be enjoyed both on screens in the backrest of the seat in front as well as on passengers' own electronic devices such as notebook computers, tablets and smartphones. All long-haul aircraft will also have Wi-Fi on board.
On routes within Germany and on routes throughout Europe, the existing Eurowings fleet will gradually be replaced from the beginning of 2015 by aircraft in the new Eurowings livery. The 23 CRJ 900s operated until now will also be replaced by Airbus A320s. The first A320 in new livery flew on 1 February 2015 from Hamburg to Prague. More aircraft in the new colours will come in the following weeks.
Deutsche Lufthansa AG, Media Relations Lufthansa Group, 04.03.15
 Germanwings, Media Relations, 04.03.15