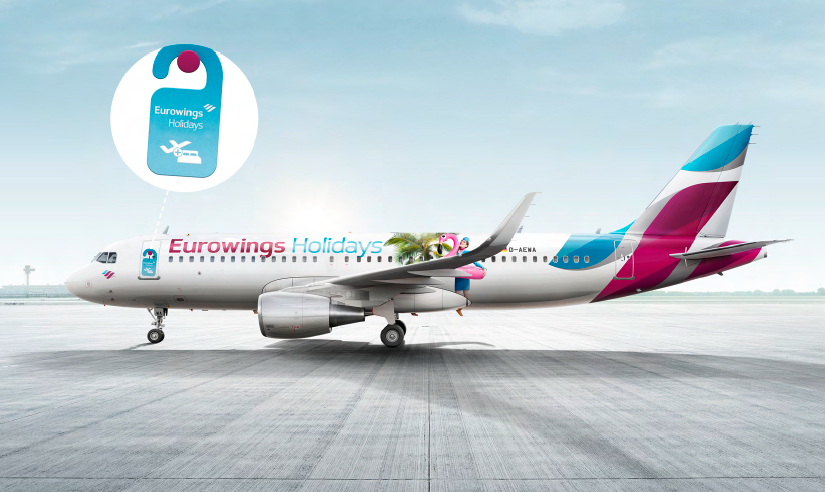 Colourful addition to Eurowings fleet in Eurowings Holidays design
Quality low-cost airline and Tropo strengthen their collaboration
New top offers for package holiday travellers at www.eurowings.com/holidays
Fly off on holiday in the Eurowings Holidays aircraft. Eurowings presents its Airbus A320 in the new Eurowings Holidays design. The aircraft with the eye-catching decals is one element of the cooperation between Eurowings and Tropo.
Since the beginning of the year, the airline has been offering good quality, attractively-priced package holidays under the Eurowings Holidays tour operator brand. Now one of the Airbus A320 in the Eurowings fleet is decorated with holiday motifs.
The aircraft is based in Palma de Mallorca and will fly to a large number of holiday destinations.
For the first flight of the colourful Airbus, customers will find a huge range of flight + hotel offers at exclusive prices at www.eurowings.com/holidays. For example, they're just a few clicks away from a 1-week beach holiday in a 4 star hotel in Palma on Mallorca including flights for only EUR 255.
The list of offers will gradually expand to include new holiday destinations. So regularly browsing at www.eurowings.com/holidays will always be worthwhile.
The new Eurowings Holidays packages have been developed with tour organiser Tropo as part of the "MakeMyWay" future programme which combines a large number of the airline's innovative projects and digital services.
Cologne/Bonn, 20 July 2017